Whether you're a comic-book aficionado or not, Marvel's action-packed movies are incredibly absorbing and entertaining. We're all familiar with the major characters and the actors who play them, and these behind-the-scenes photos offer a further glimpse into how magical the Marvel universe really is. We couldn't believe some of the things they do while shooting—read on to see what they are!
Don't Leave Me! (Avengers: Endgame)
This is such a beautiful, emotional photo. It makes us imagine the conversation Mark Ruffalo and Robert Downey Jr.'s characters might have had when they discovered how Avengers: Endgame would end. Surely, Bruce Banner would have begged Tony Stark not to go and would promise to take back all of the things he ever said about his rival! Thinking about this actually makes us a little bit emotional, so we'll stop.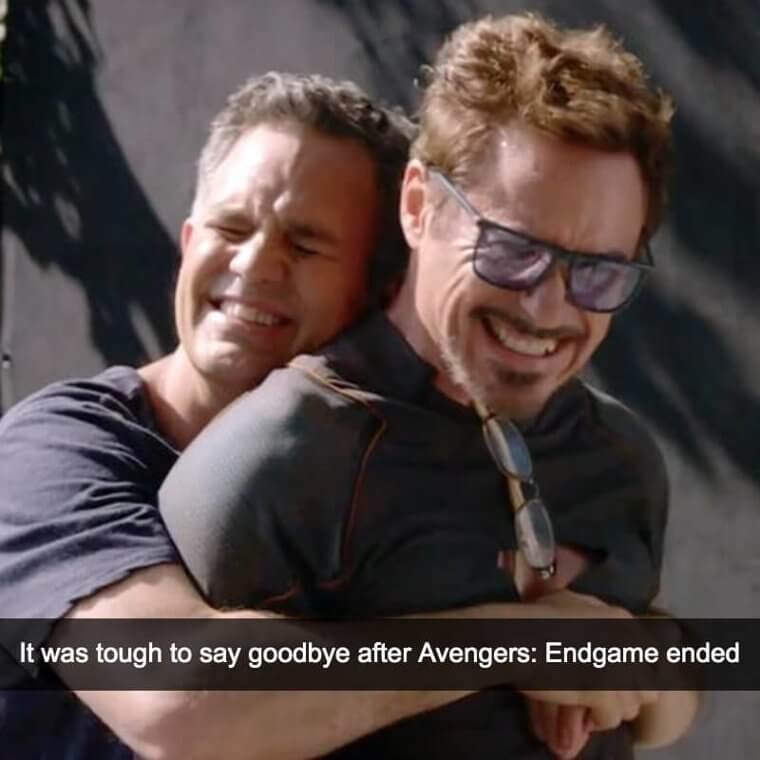 Taken on set during the final scenes of Avengers: Endgame, this snap sums up how most of us feel about the tragic ending of the epic movie. 
Just Chilling (Marvel Cinematic Universe movies)
He may not be a superhero as such, but Nick Fury — played by the effortlessly cool Samuel L. Jackson — is one of the great characters in the Marvel franchise. This shot of Jackson, leaning against a cop car on set, shows exactly why he's one of the most popular actors of his generation — always looking the part even when the cameras aren't rolling.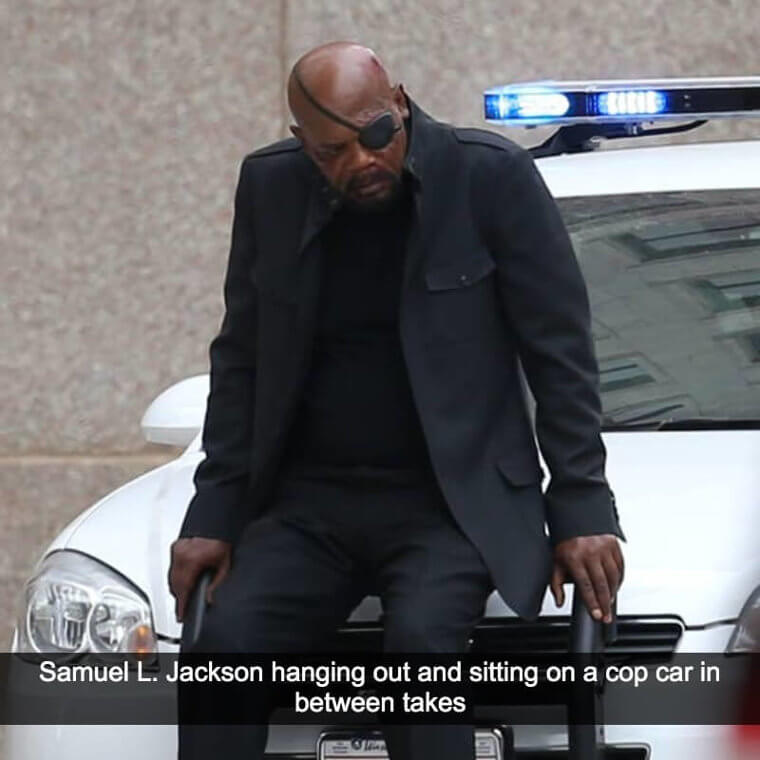 Not only is Samuel L. hugely popular, but he's clearly in demand, too. To date, he has featured in 10 of the Marvel franchise movies, whether that's a full character role or a short cameo.
Quick Exit (X-Men: Apocalypse)
If there are more iconic scenes in X-Men: Apocalypse than Quicksilver saving the day when the X-Mansion explodes? We love how the superhero, played by Evan Peters, literally flew in at the vital moment and rescued everybody. Classic Marvel! This brilliant behind-the-scenes photo shows just how the epic moment was filmed— it involved plenty of harnesses and a big green screen.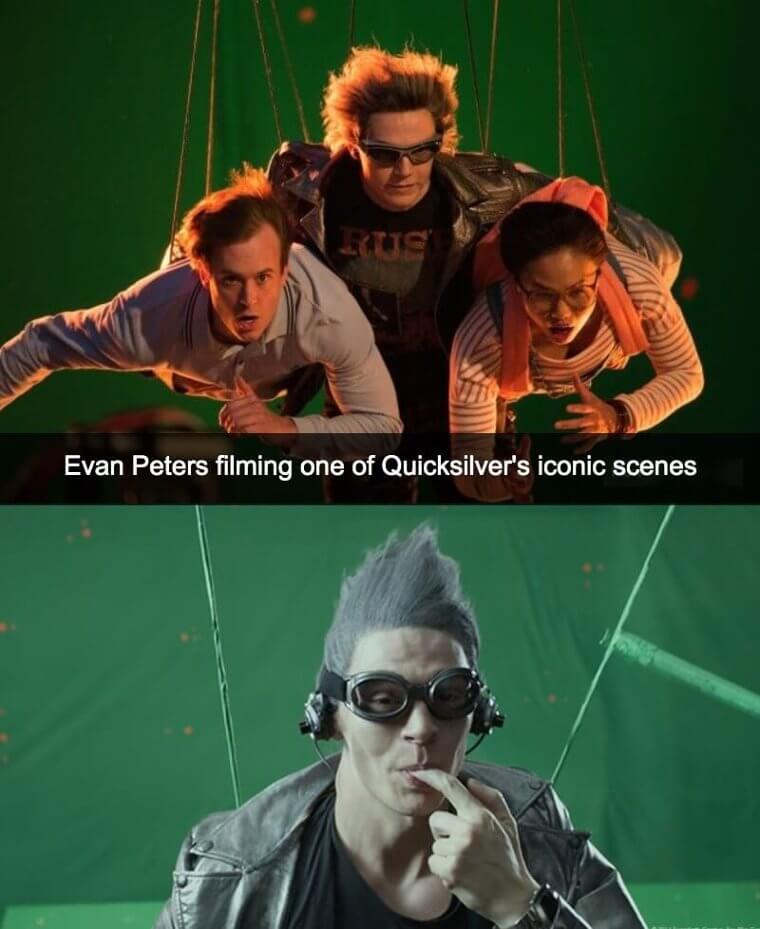 Quicksilver is surely one of the most underrated characters in the Marvel Universe. Not only is his super-speed an awesome superpower, but we love his laid-back attitude too.
Sunday Stroll (Doctor Strange)
We love this photo for so many reasons. Firstly, check out the couple in the background who probably have no idea they're on the set of a Marvel movie! Second, we think that Benedict Cumberbatch and Chiwetel Ejiofor are taking this race a little too seriously! Friendly competition, perhaps? In reality, these fellow Brits do, of course, play adversaries on-screen in Doctor Strange — Cumberbatch in the role of Strange while Ejiofor acts supervillain, Baron Mordo.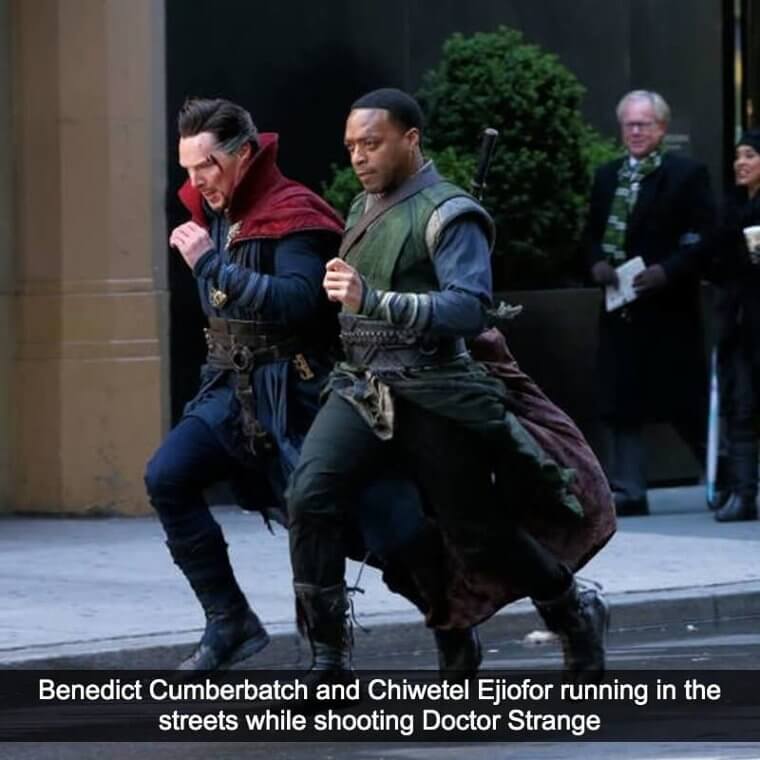 Maybe this isn't a scene being shot at all, but instead, the two actors are racing to get to breakfast first? It would be understandable, given how many mouths there are to feed on set!
Cracking Jokes (Avengers: Endgame)
We can't lie, seeing these behind-the-scenes photos has us feeling pretty envious of the Marvel cast. Sure, acting in a major movie takes serious amounts of hard work and patience, but clearly, the actors and support team have an amazing time together on set. This photo of Chris Evans having a laugh with his co-stars perfectly captures up the magic of the Marvel family.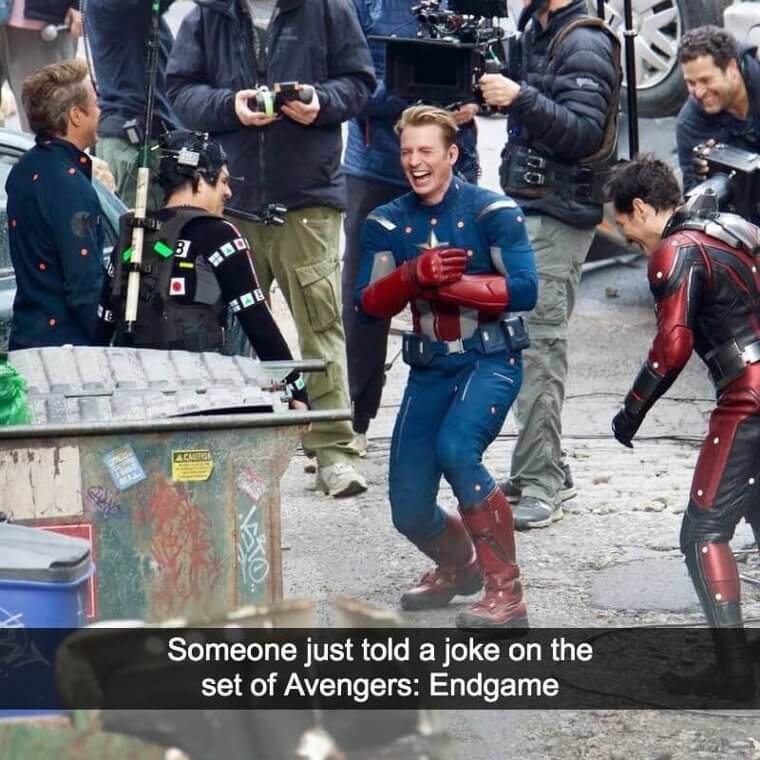 The Marvel franchise clearly attracts big personalities — the likes of Evans, Robert Downey Jr., and Tom Hiddleston always look like they're the life and soul of the set. Can we get a role as an extra, please?
A Couple Of Big Wigs (Ant-Man and the Wasp)
Fans of the movie Ant-Man and the Wasp will know that the Wasp and Ghost are on-screen sworn enemies. However, we're pleased to confirm that off-screen, Hope van Dyne and Evangeline Lilly are great friends — as this behind-the-scenes photo suggests. We love this gorgeous selfie of the two actors who are clearly having lots of fun trying on wigs on set.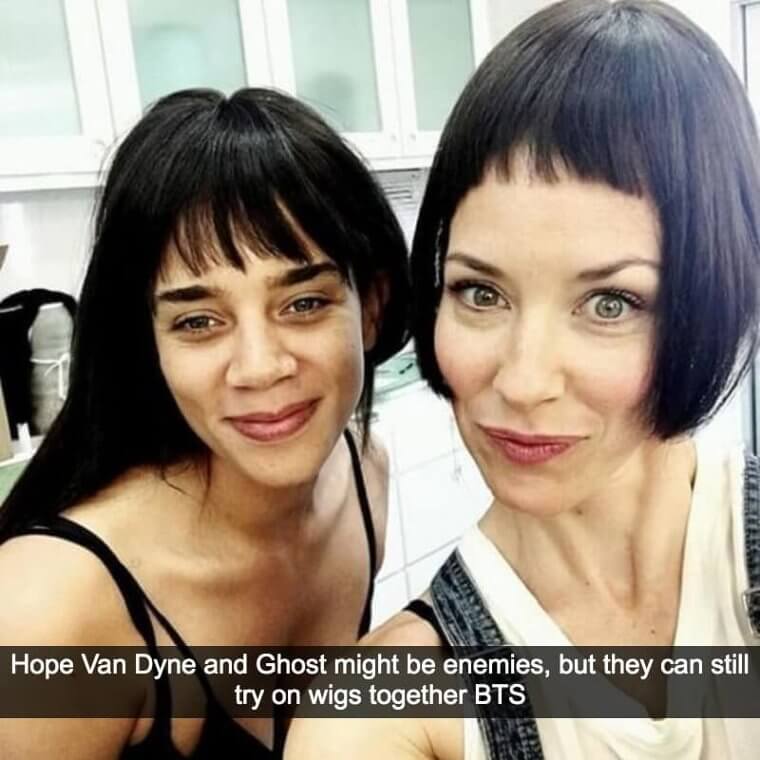 An interesting fact about Evangeline Lily is that in playing the Wasp, she became the first woman ever to play the title superhero in a Marvel movie. Here's to many more!
Expert Advice (Iron Man)
This behind-the-scenes image of Robert Downey Jr. and Jon Favreau is really interesting because those familiar with the Iron Man movies will be familiar with these two playing opposite each other, but not in this dynamic. On-screen, of course, Favreau's character, Happy Hogan, is usually being told what to do by Tony Stark. However, the reality is that Favreau gave Downey Jr. direction through both Iron Man and Iron Man 2, since he was the producer and director.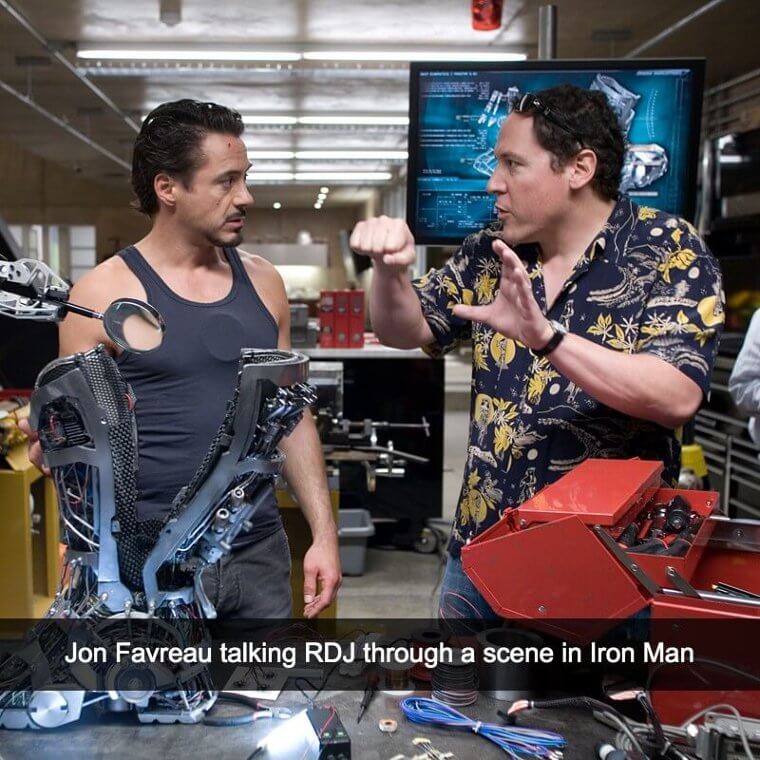 It's also worth mentioning that Jon Favreau was the executive producer of Iron Man 3, The Avengers, and the Avengers: Infinity War and Endgame movies — you could call him Mr Marvel!
Heavy Metal (X-Men: Days of Future Past)
Here's Hugh Jackman looking extremely comfortable with numerous metal rods sticking out of his body. In this snap captured behind-the-scenes on the set of X-Men: Days of Future Past, the Wolverine is preparing for a scene that presumably doesn't go too well for him! We're not too concerned, however, as he's a superhero that always defeats adversity. It looks like Jackman isn't too concerned either!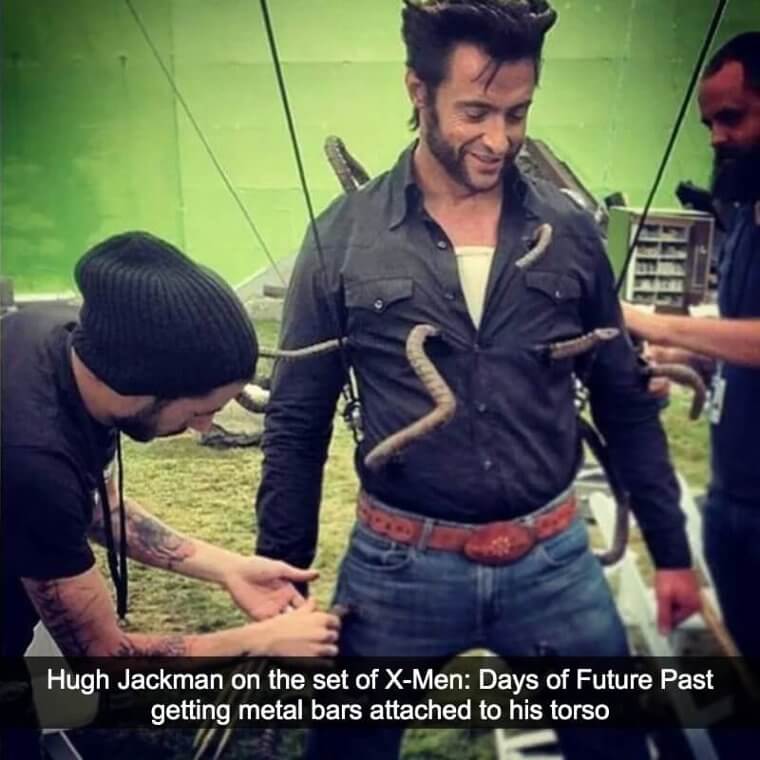 This photo is another example of the incredible talents possessed by the makeup and costume teams on Marvel movies — surely some of the best in the business?
Spidey Sleepover (Avengers: Infinity War)
This is a great photo of some of the squad taking a quick break from kicking ass on the set of Avengers: Infinity War. There's clearly great camaraderie between Chris Pratt, Tom Holland, and Karen Gillan, who look super relaxed hanging out together. Infinity War was Spiderman's first appearance in the Avengers movies, joining Star-Lord and Nebula to battle the baddies. The superhero also returned for Avengers: End Game.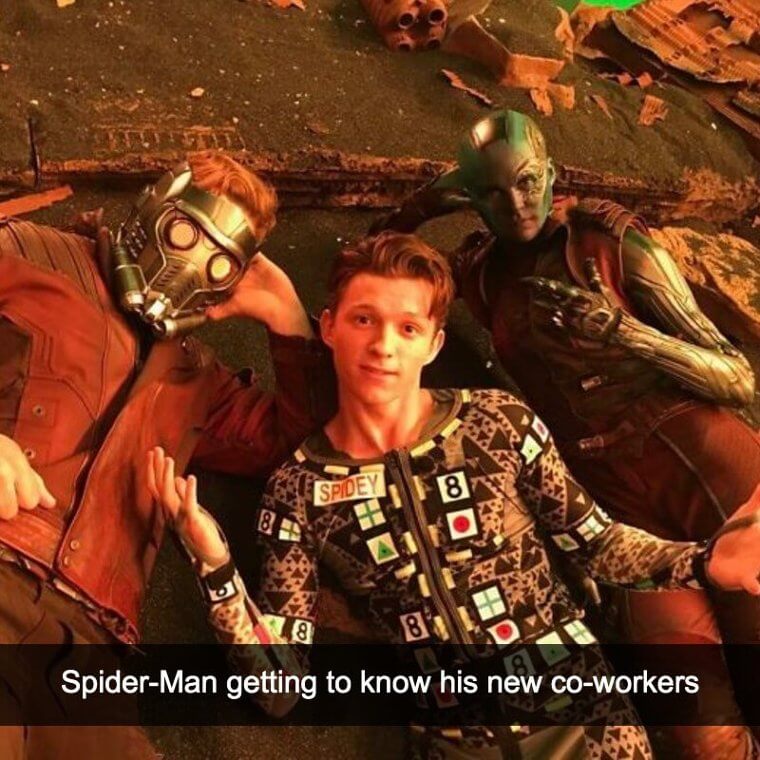 In fact, Tom Holland and Chris Pratt struck up a great friendship while on set together. The two actors shared a lot of banter apparently, with Holland remarking that he sometimes found it difficult to keep a straight face when filming close-up scenes with his co-star!
Best Buds (Marvel's The Avengers)
This is such a wonderful shot of Marvel stars Robert Downey Jr. and Mark Ruffalo on location in Manhattan, NYC. There seems to be a genuine bond between the actors in The Avengers, which has 4 installments to date. The photo suggests the pair — who are in costume— are possibly in between takes, playing their characters Tony Stark (Ironman) and Bruce Banner (the Hulk).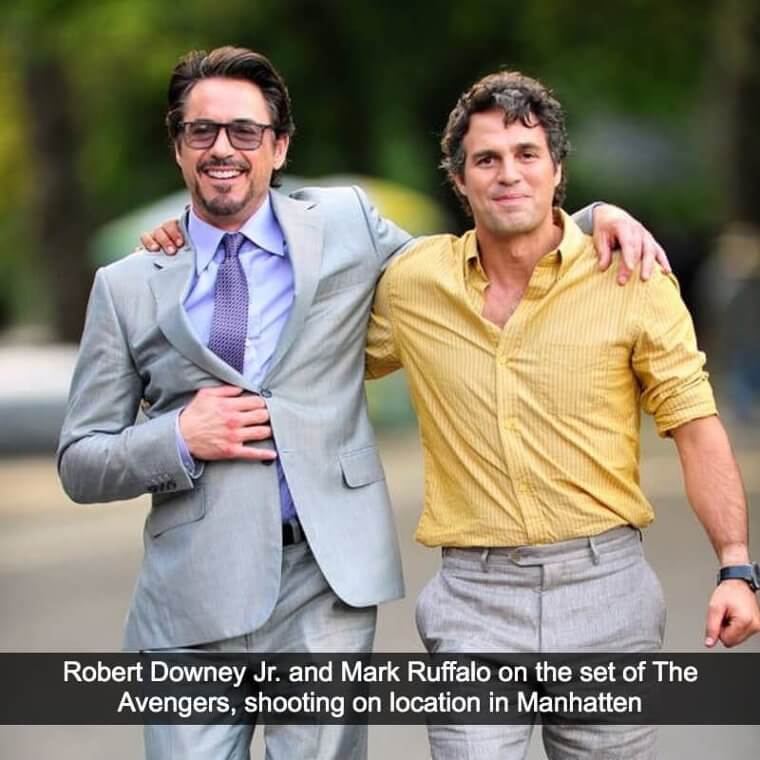 Ironically, the two characters on-screen aren't so friendly as they appear to be in real life. Stark and Banner had a long-standing rivalry throughout the Avengers series, although this eventually evolved into mutual respect and they made amends in the final movie.
Illicit Footage (Avengers: Endgame)
This is a snapshot of Dave Bautista (AKA Drax) from behind-the-scenes footage shot by Chris Pratt, who plays the character Star-Lord in Avengers: Endgame. It's a shame we can't see the footage itself because it features a whole host of cast and crew members during filming of the epic final scene. Technically, Pratt shouldn't have recorded this, since phones were strictly banned on set!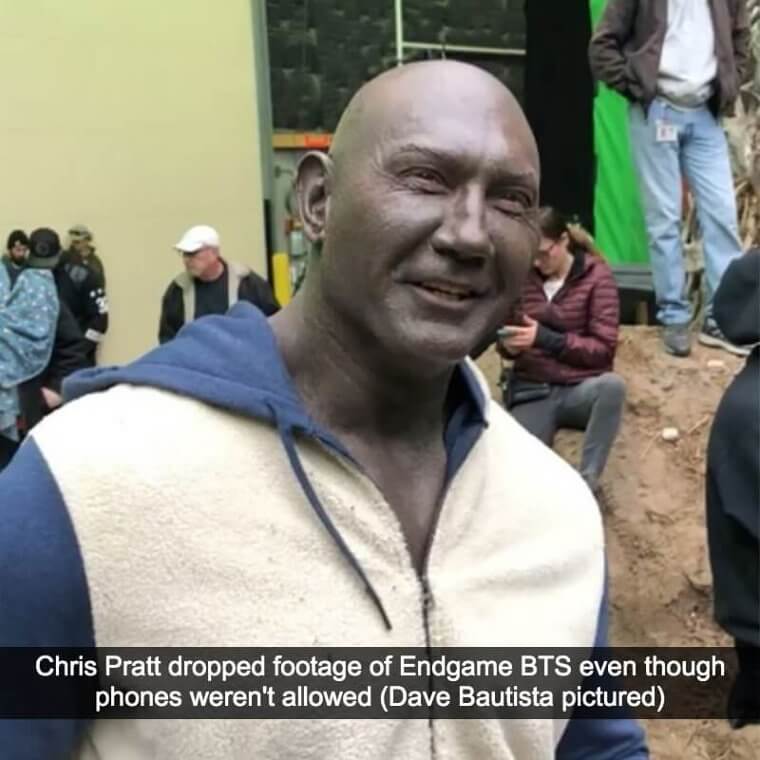 When asked about this breach of the rules, Pratt joked that no one was going to stop him. To be honest, we can forgive Star-Lord for wanting to remember this moment — we just hope the Marvel execs were just as forgiving!
Vin In The Booth (Guardians of the Galaxy)
Vin Diesel was superb in his role voicing Groot, the Flora colossus, in Guardians of the Galaxy. The passion is clear to see in this behind-the-scenes pic of Diesel doing his thing in the recording studio. Apparently, the action star had to record the line "I am Groot" at least a thousand times in 15 different languages, including Spanish, German, and Japanese! Now that's what you call commitment to the Marvel cause.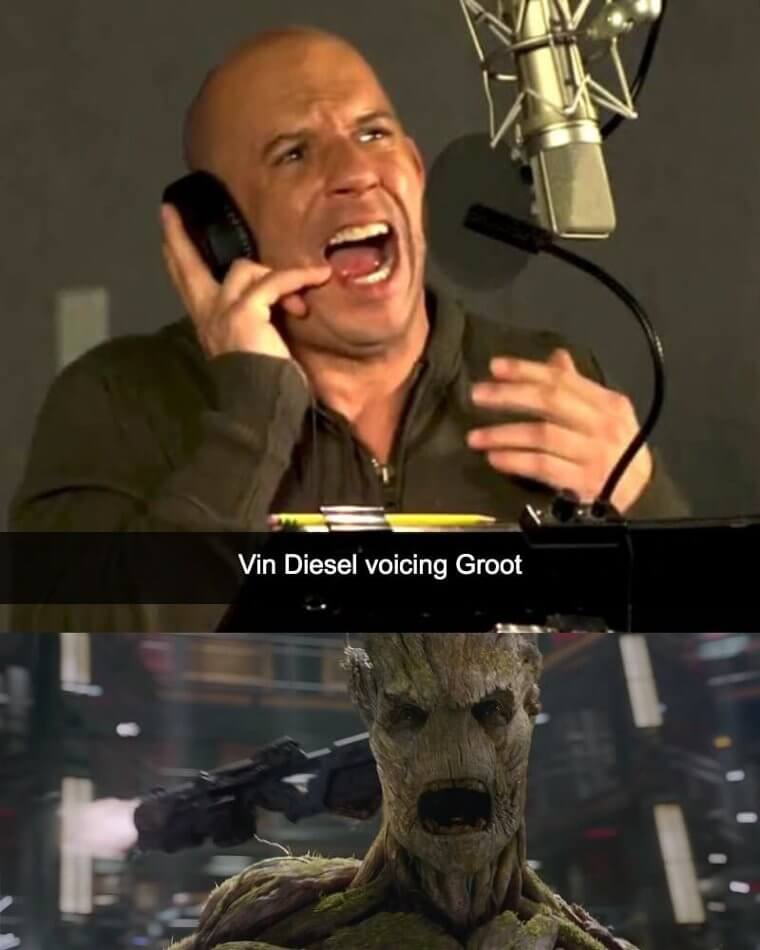 Clearly a natural voice actor, it's said that Diesel's 'baby Groot' audio required only a small amount of electronic tweaking since he did such a good job with the high-pitched voice. That's what you call a hidden talent!
Lunching In Character (Avengers: Endgame)
We can't get enough of this lunch break photo of some of the  Avengers: Endgame cast members. Not only do the stars look super happy in each other's company, but it's also hilarious to see some of them still in full costume and makeup. The reason for this is down to the differing filming schedules. This must have made for some amusing lunchtimes, that's for sure.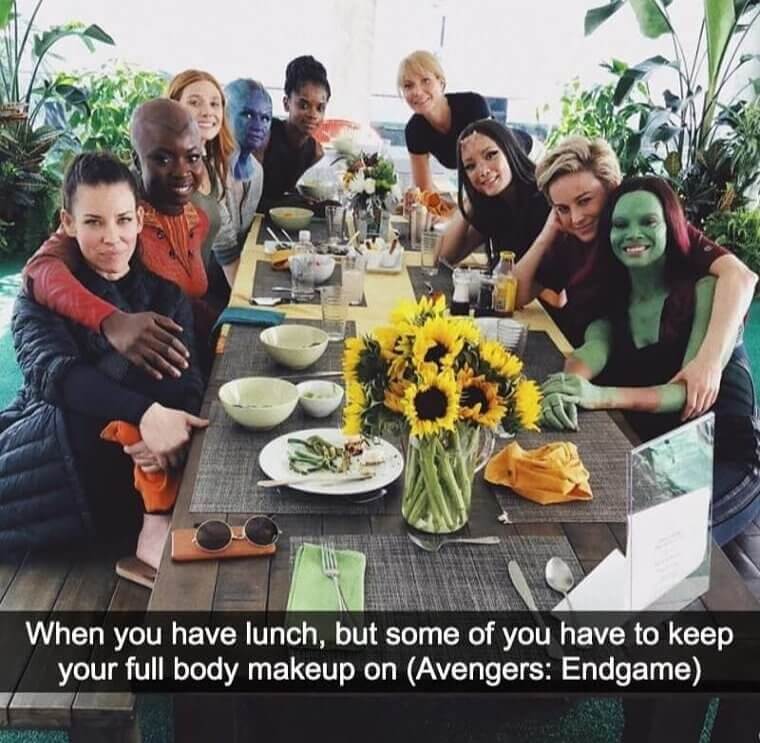 What we love most about this behind-the-scenes snap, however, is the pure girl power on display. It looks like a meeting of Marvel's fantastic females and we'd love to pull up a chair!
Sophie And The Stuntman (X-Men: Apocalypse)
Sophie Turner, who rose to fame playing the superb Sansa Stark in the Game of Thrones franchise, made her Marvel debut in the movie X-Men: Apocalypse. Her character, a young Jean Grey, has the ability to read minds. Had Turner been able to read minds in real life, however, she might not have starred in X-Men: Apocalypse at all, due to her experience of working with the controversial director, Bryan Singer. Turner commented that her time working with Singer was "unpleasant".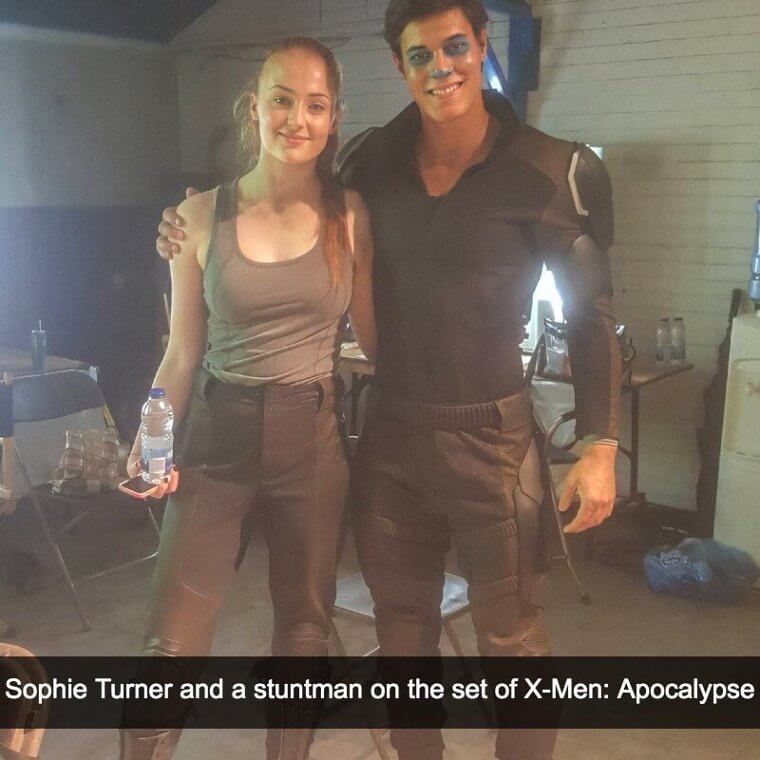 Her working relationship with Singer aside, the all-action Turner looks happy to be a part of the Marvel family — this lovely behind-the-scenes photo was captured on set with a stuntman, whose name we, unfortunately, don't know!
Anyone Else Getting Goosebumps? (Black Panther)
The makeup team working on the Marvel hit Black Panther certainly had their work cut out attaching all of these scars to Michael B Jordan's body. Jordan's character — the epic villain Killmonger — explains in the movie that each of these dots represents a kill, so he's certainly not to be messed with! It looks like tedious work for the team, requiring hours of concentration to place the dots perfectly on the actor's sizeable body.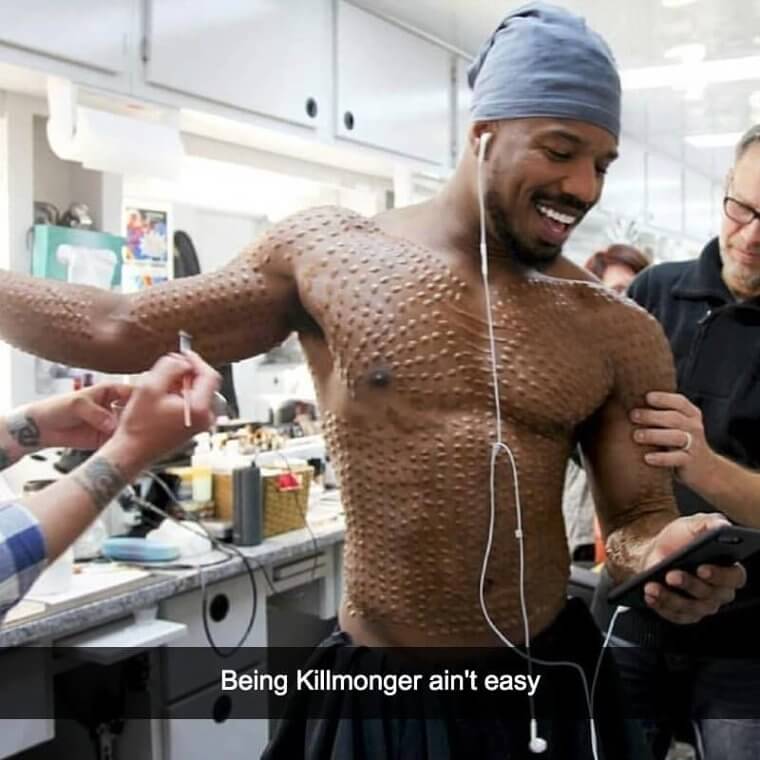 The hard effort is definitely worth it though, as the makeup looks incredible on screen and really adds to the Killmonger character. Michael B Jordan looks supremely relaxed with it all, too.
Need A Hand Getting Down? (Avengers: Infinity War)
Anyone who's seen Avengers: Infinity War will know that this is, in fact, a very dark scene. It involves Thanos of course, so that shouldn't really come as a surprise. However, whoever took this photo captured a rare sweet moment involving the feared warlord. Josh Brolin's Thanos comforts a young Gamora, played by Ariana Greenblatt, as his forces prepare to destroy her people. Who would have thought this is how that scene is actually filmed, with Brolin wearing an elaborate contraption and kneeling on a table!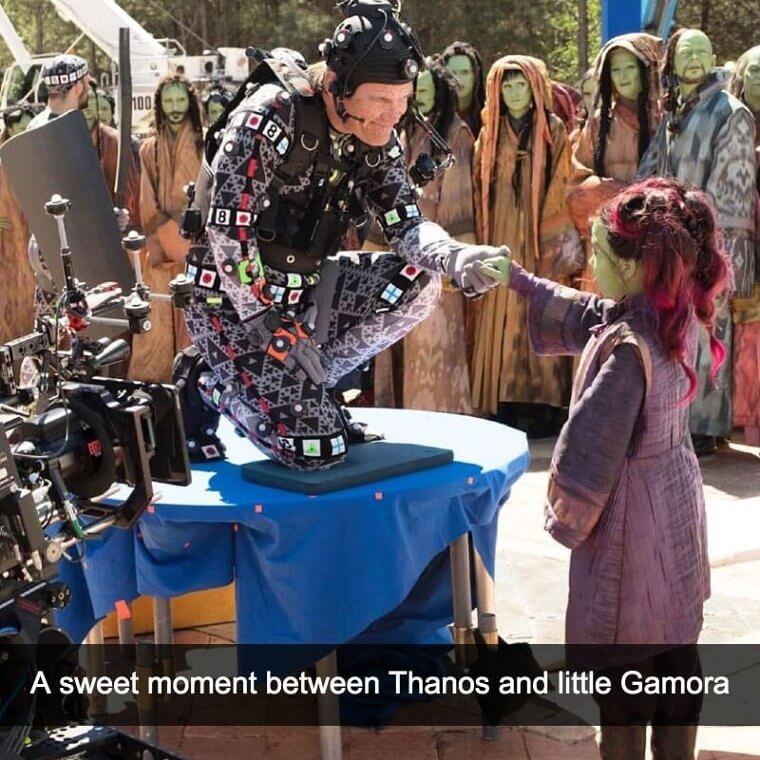 This behind-the-scenes photo is another reminder of the incredible uses of technology — especially CGI — to bring the Marvel world as we know it to our screens. It's hard to imagine this, however, when we're watching the action unfold in a movie theatre.
Dot To Dot (Thor: Ragnarok)
Mark Ruffalo is at it again with the awesome on-set photos, this time showing us exactly what it took to bring the Hulk's features to life. Even though his character is a green giant of a creature, no traditional makeup was required. Instead, CGI dots were stuck onto Ruffalo's face to capture the correct effects. While this is super impressive, we can't help but feel a little creeped out by this mask of dots.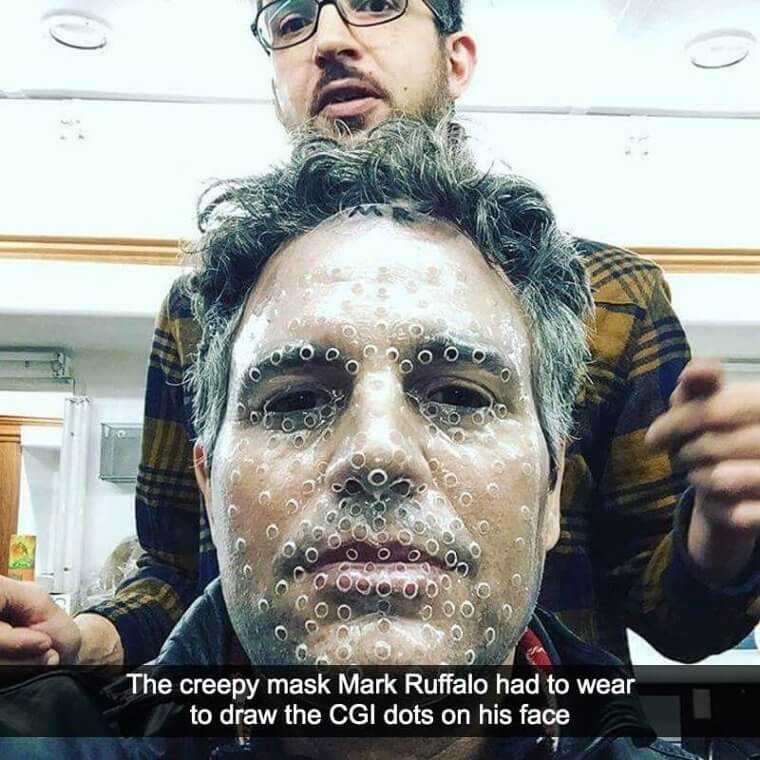 If you didn't know otherwise, you could be forgiven for thinking Ruffalo was playing a villain in a horror movie, rather than a hero in a Marvel film. That's the genius of technology in cinema today!
It All Looks A Bit Stark (Avengers: Endgame)
This is why behind-the-scenes photos are so fascinating! True lovers of the Marvel Universe are just as obsessed with how the epic movies are made, as they are with the movies themselves. What was an incredibly emotional final scene of Avengers: Endgame — Tony Stark holding the gauntlet —looks almost amusing on set, Downey Jr. just staring at his own hand!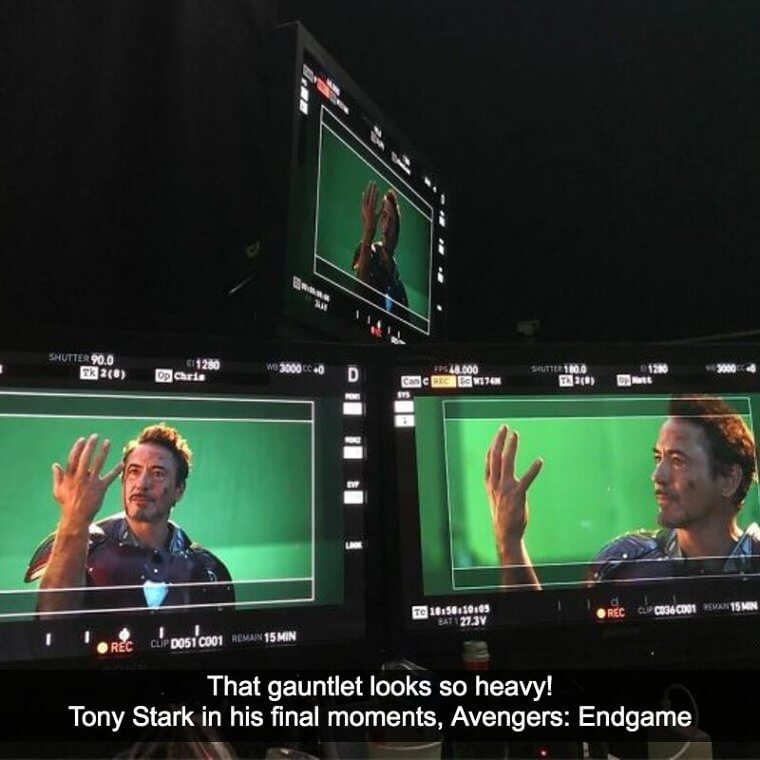 These kinds of photos make you appreciate the skill of acting. We often forget that what the cast gets to see during filming is unrecognizable from the action seen on screen, so Downey Jr. did an amazing job here.
Nosey Yondu (Guardians of the Galaxy)
Michael Rooker's larger-than-life character in Guardians of the Galaxy wouldn't like you to think so, but it seems Yondu is actually a big softie after all! This beautiful behind-the-scenes snap was taken on set during the filming of the 2014 blockbuster, and it truly melts the heart. We wonder whose dog this is though, perhaps it's the official Marvel Universe pooch? We'll keep an eye out for any future cameos.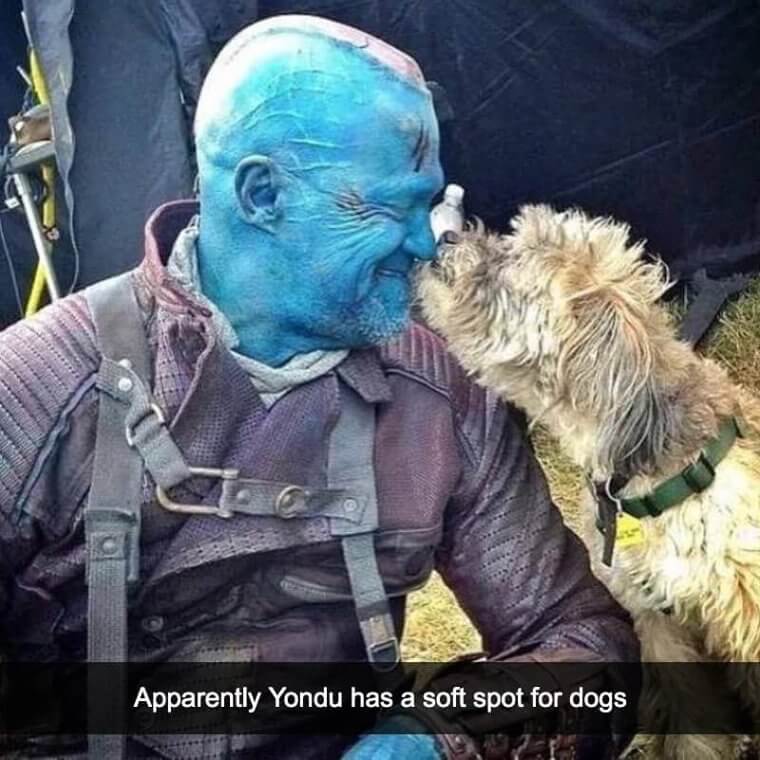 While we hope to see the cute little dog again, it's unlikely we'll get to see Rooker reprise his role. Yondu is featured in volumes 1 and 2, but the actor is insistent his character's valiant death remain permanent.
Dead Goofy (Deadpool)
A fun fact about Morena Baccarin's role in Deadpool is that she didn't fully read the script until almost landing the part. Audiences could probably tell that she really enjoyed playing her character, Vanessa, who is the fiancée of Wade Wilson (or Deadpool, as he's more commonly known). This amusing behind-the-scenes snap shows Baccarin and Reynolds messing around on set and it looks like the movie was just as fun to make as it was to watch!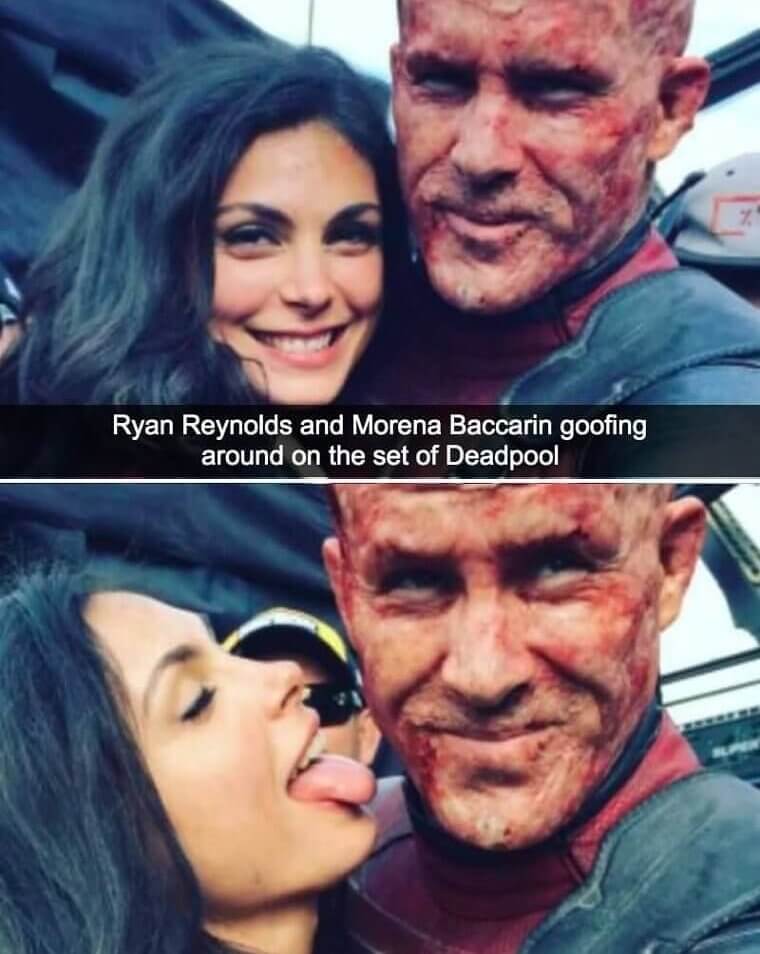 If you've seen Deadpool — and if not, you really should — you'll know that Ryan Reynolds' protagonist gets into some serious scrapes. Apparently, the makeup for his face and limb scars took 4 hours and the whole body took 9. That's dedication!
Senior America (Avengers: Endgame)
At first glance, it looks like Chris Evans has used one of those face filters to give himself an idea of how he'll look when he's older. But then, this is the Marvel Universe and Captain America doesn't just use any old filter to see into the future! Instead, the talented makeup team on the set of Avengers: Endgame used their skills to produced some real-life physical aging — and the result was incredible!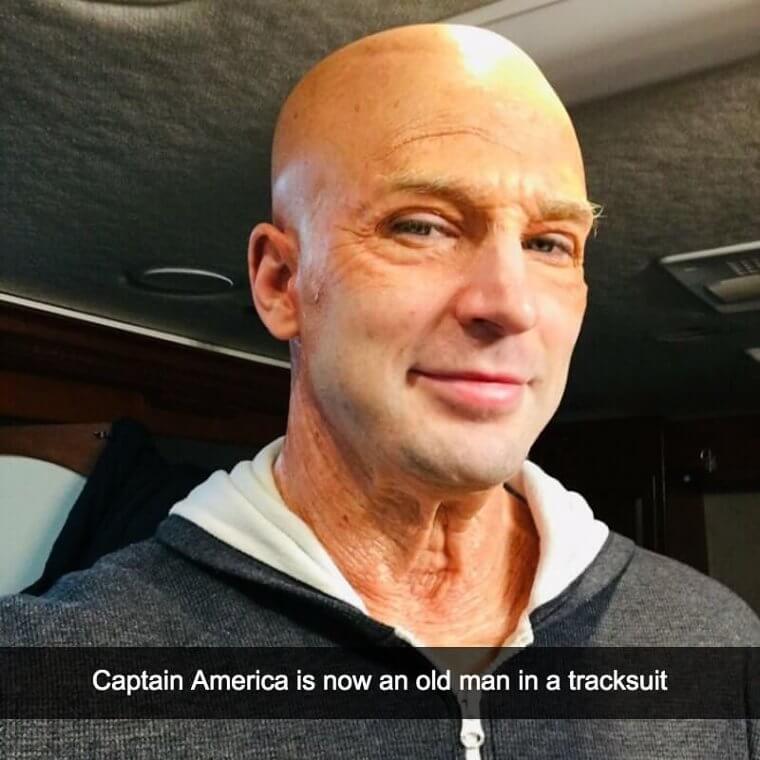 The makeup team was tasked with aging Captain America by 30 years, which they certainly achieved. It's both realistic and, let's be honest, a little bit creepy. Evans seems perfectly fine with it though and clearly embraces the aging process!
Selfie Goals (Avengers: Endgame)
One of the reasons Marvel movies are such a hit with fans is due to the impeccable casting by the production team. It's almost impossible to imagine the comic book characters now without thinking about the likes of Chris Hemsworth or Benedict Cumberbatch. This incredible behind-the-scenes selfie gathers four of the Marvel Universe's best characters, and, while we love Don Cheadle, Scarlett Johansson, and Gwyneth Paltrow, it's the casting of Robert Downey Jr. as Tony Stark that surely takes the crown. Why do we say that?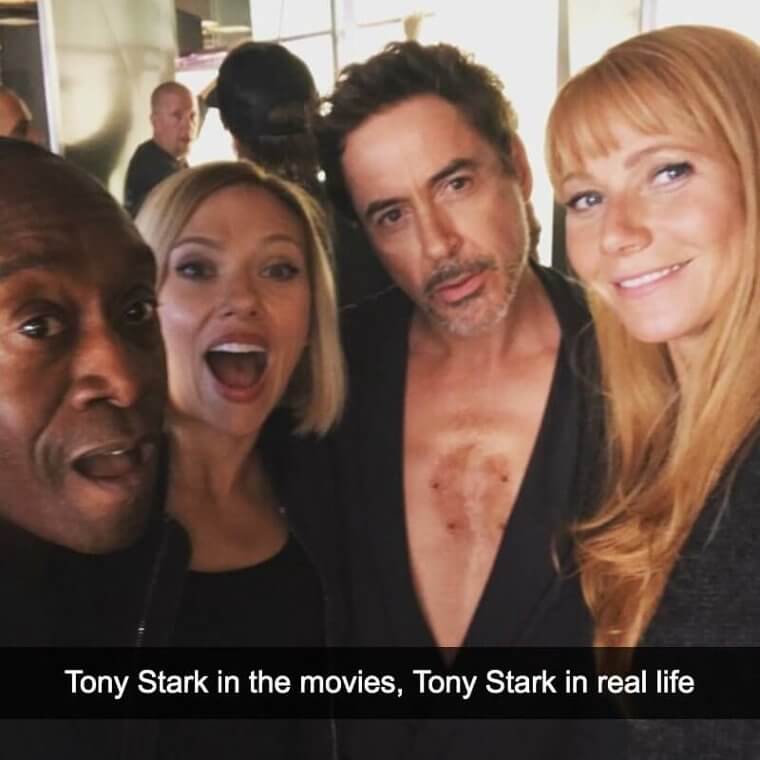 Well, could Downey Jr. look any more like Tony Stark here if he tried?! The pout and the bare chest are giving off serious self-absorbed billionaire vibes — literally his role in Iron Man. Props to the casting team!
I Need Head Space (Guardians of the Galaxy)
When we sit down to watch a movie in the theatre with our popcorn on soda, we get to enjoy the finished product — the stars of the show doing their thing all dressed up in their amazing costumes. It's easy to take for granted that they might have sat through hours of painstaking makeup and wardrobe to transform into their Marvel character. For the likes of Thor and Doctor Strange, this isn't such a rigorous exercise, but for someone like Nebula, it certainly is.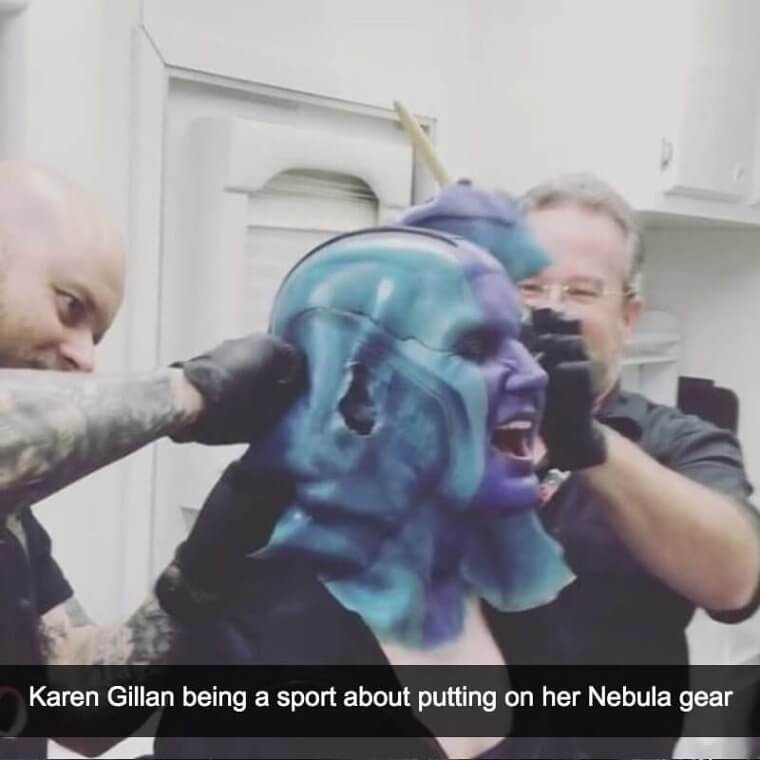 This is an awesome photo of Karen Gillan, who gives an incredible performance as Nebula, having a laugh with the makeup team on the set of Guardians of the Galaxy. Her makeup requires more time and effort than most and it's lovely to see her being such a good sport!
Just A Little Higher (The Wolverine)
We absolutely adore this behind-the-scenes photo of Rila Fukushima, who played Yukio, giving Hugh Jackman a back scratch on the set of the movie, The Wolverine. Yukio was a sidekick character to Jackman's Wolverine and this was Fukushima's breakout role, expertly portraying the ninja — a skilled fighter and also a mutant who has the ability to foresee others' deaths.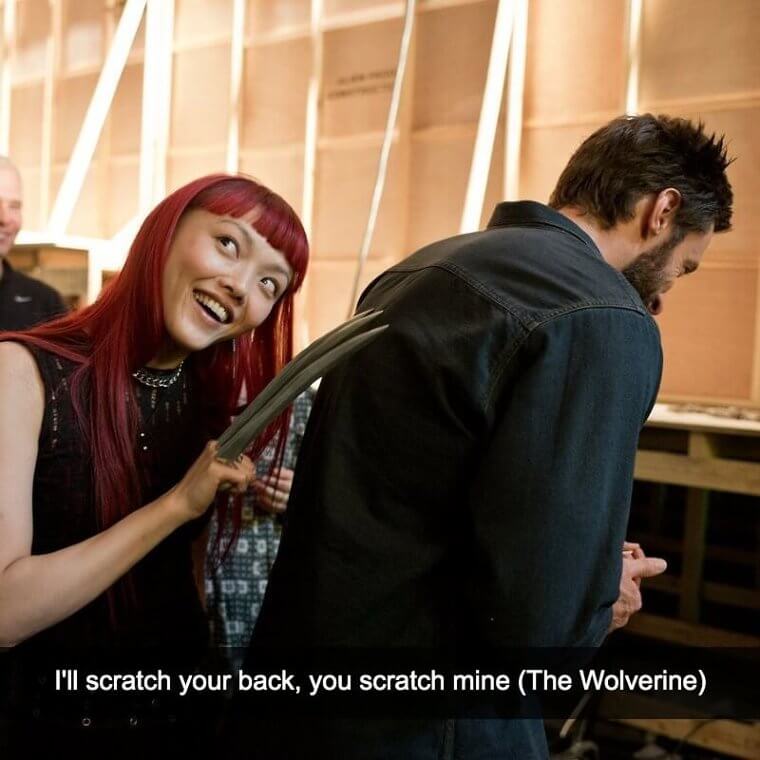 The backstory to this photo is just as sweet as the image itself. Fukushima says that she was so shy on set that she wouldn't mention when she was hungry. Jackman, being the caring costar that he is, would request food on her behalf. So cute!
We Loki Love You (Avengers)
Tom Hiddleston's character (Loki) may be a mischievous villain in the Marvel movies, but the actor himself is clearly one of the most likable on set. The suave Brit is famous for his hilarious impressions of other famous people and his sweet demeanor is evident whenever he speaks to the press. This photo of Hiddleston with his fellow cast members surrounding him proves just how popular he is in the Marvel community.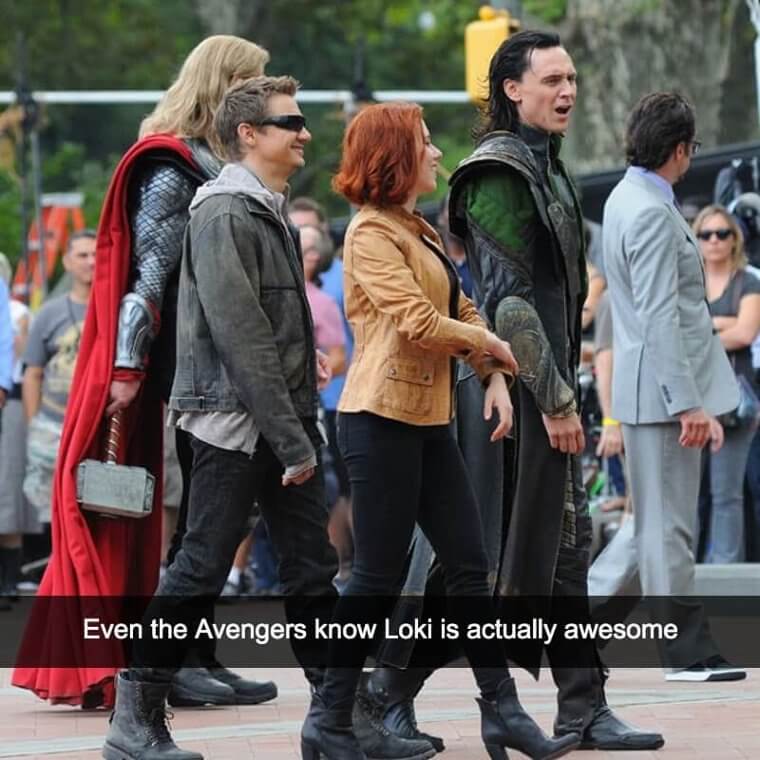 In fact, Loki and his on-screen brother, Thor, are good friends in real life. Hiddleston has commented that Chris Hemsworth is his favorite actor to work alongside.
Sun Shield (Avengers: Infinity War)
Sure, Thor and Captain America are two of the most powerful superheroes in the Marvel Universe, but they aren't 100% invincible either. Surprisingly, however, it isn't Thanos that they're protecting themselves from this time, but mother nature herself. This behind-the-scenes snap shows us that the sun is the real supervillain of the piece — Captain America swapping his trusty shield for a less glamorous, but equally effective umbrella. It looks like he had a spare for his buddy Thor, too.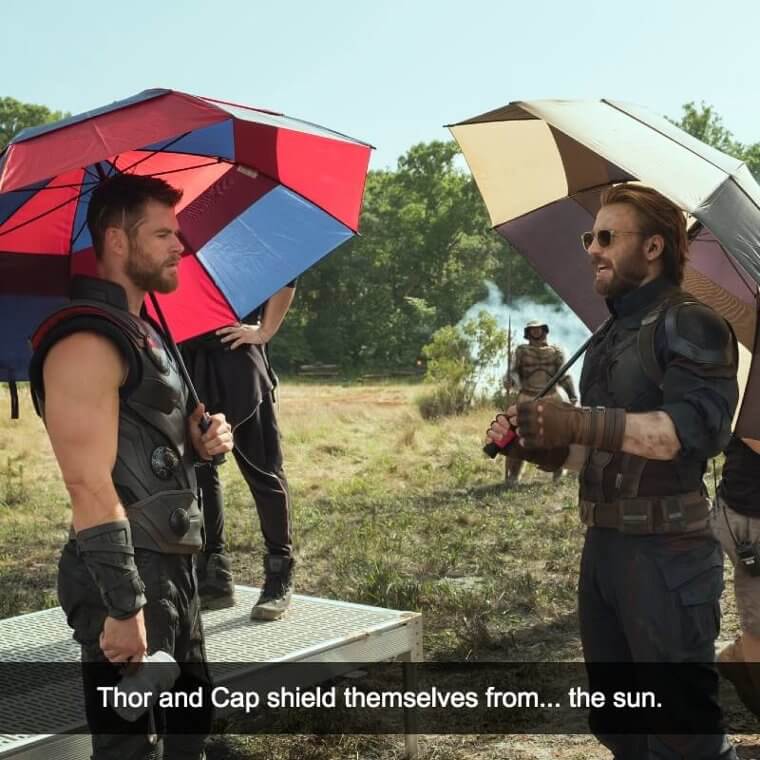 We love seeing this excellent example being set by Chris Hemsworth and Chris Evans, who show that no matter how tough they are on screen, the sun isn't something to be messed with!
Vision Impaired (Avengers: Endgame)
Uh oh, the illusion has been broken! This amusing behind-the-scenes snap proves that Marvel superheroes are, well, human after all. Not only does Vision (Paul Bettany) lack perfect vision, he also has to succumb to mundane paperwork like the rest of us every once in a while. In fairness, when the synthezoid is doing his thing in the Avengers: Endgame movie, he just doesn't have the time for these laborious adult responsibilities!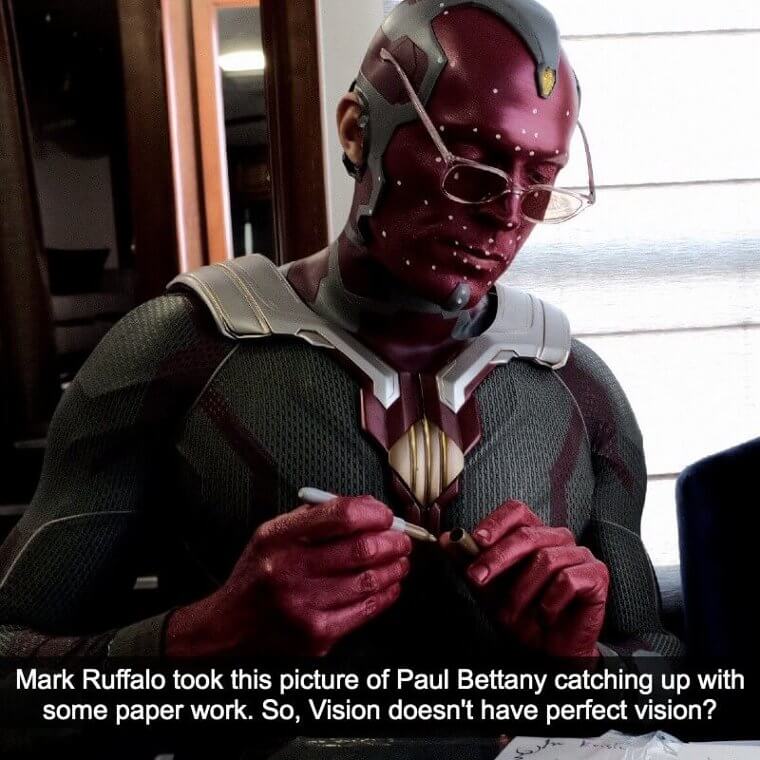 In fairness to Mark Ruffalo, he does an excellent job at capturing candid on-set photos. The Hulk clearly made himself scarce to get this one — Vision said don't mind me, just filling out my taxes!
Stick 'Em Up, Thanos (Avengers: Infinity War)
We're not entirely sure what's going on in this behind-the-scenes photo taken on the set of Avengers: Infinity War, but Josh Brolin and Zoe Saldana look like they're having a great time! We'd love to know what Gamora (Saldana) is showing Thanos (Brolin) on her phone — some old family photos, perhaps? Also, why is there a Thanos head perched on a stick and attached to Brolin's back?!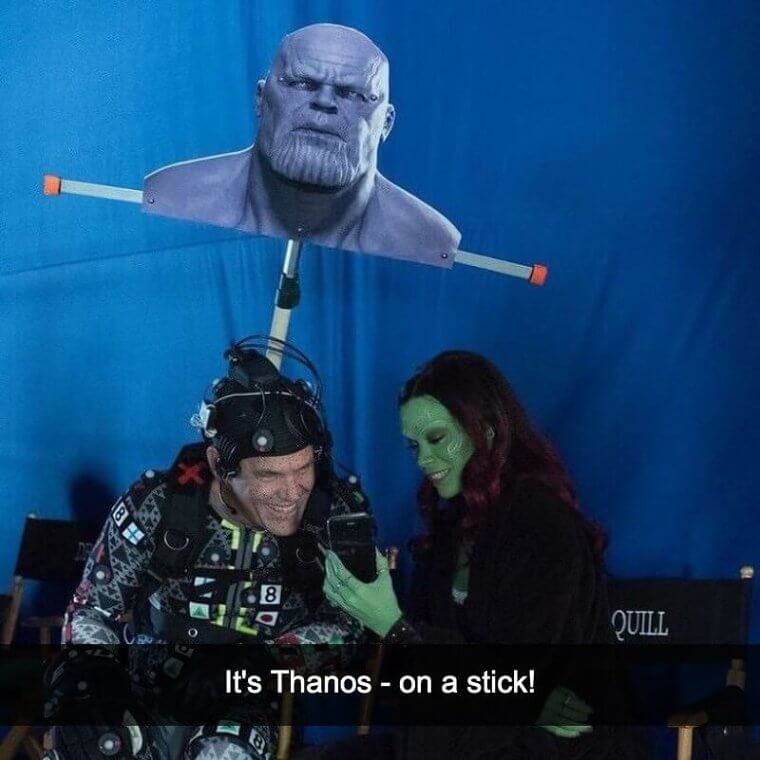 Okay, so we can take a shot at the 'Thanos on a stick' contraption. Brolin wore this during some scenes to give his fellow cast a point of reference as to where the giant warlord would actually appear on the screen (since the character was so huge). As for what's on Zoe Saldana's phone - it's a Marvel mystery.
We Have The Goddess Of Death On FaceTime (Thor: Ragnarok)
Cate Blanchett is one of the most talented actors of her generation, delivering memorable performances in every movie she stars in. Luckily for the Marvel fanbase, Blanchett was expertly cast as Hela, the Goddess of Death in Thor: Ragnarok. This photo offers a fascinating glimpse into the professionalism on set, with director Taika Waititi giving Hela some notes between takes.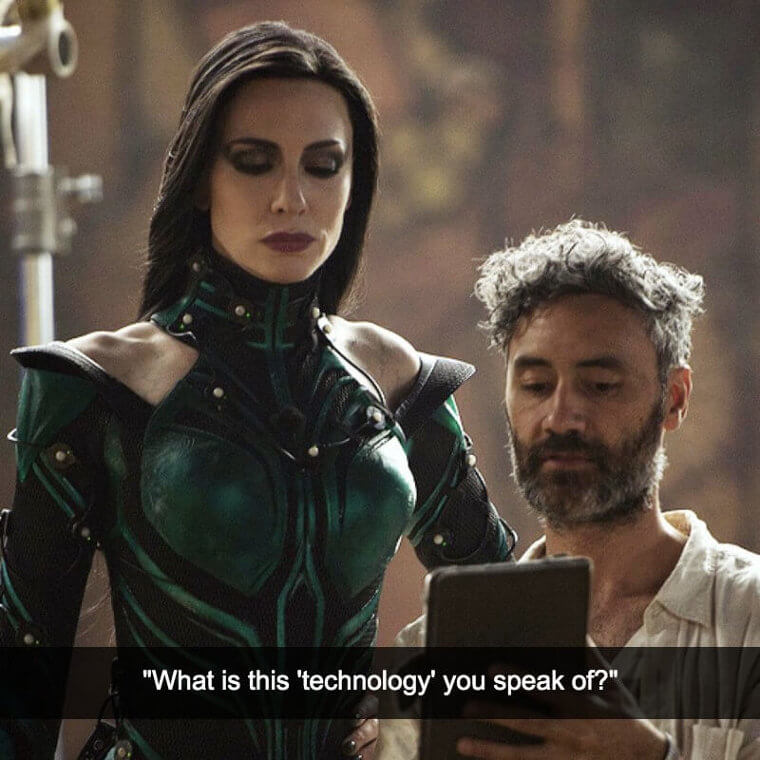 Blanchett's performance in Thor: Ragnarok was typically expert and didn't go unnoticed by Thor himself. Chris Hemsworth commenting that "she's just insanely funny and smart and talented." We concur!
Chairing's Caring (Avengers: Infinity War)
Ariana Greenblatt wowed audiences when she debuted as a young Gamora in Avengers: Infinity War, giving a performance that belied her young age. She was an adorable choice and the costume and makeup team did an incredible job transforming her into a Zen-Whoberi.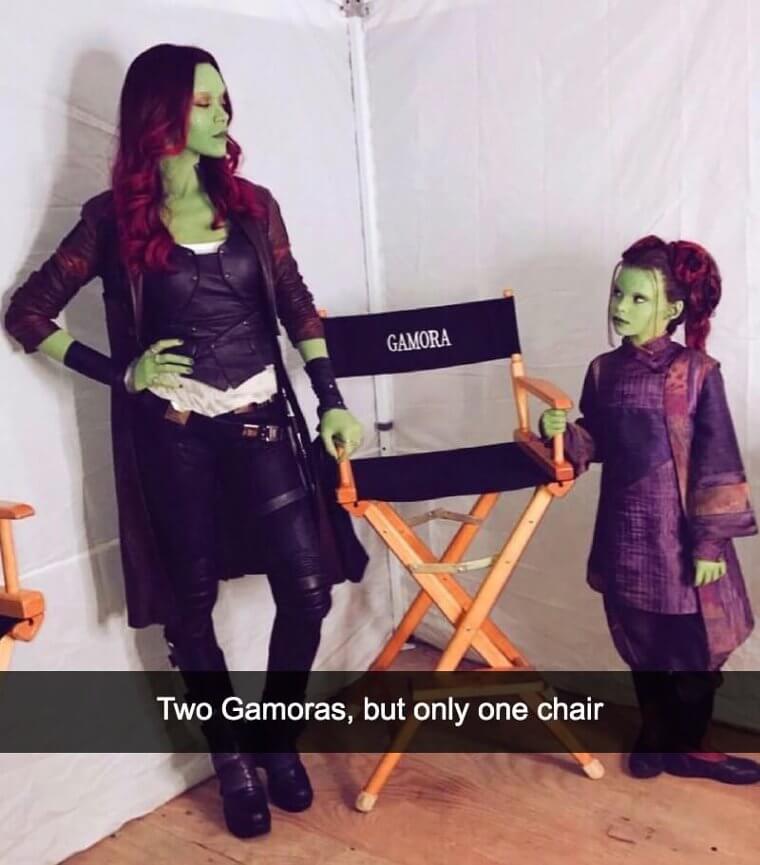 In this amusing behind-the-scene shot, the young Gamora Greenblatt is facing off with grown-up Gamora, Zoe Saldana, for the official 'Gamora' set chair. It's clear that these two have a great relationship and it's super cute to see!
Thank The Heavens (Avengers: Age of Ultron)
This behind-the-scenes action shot gives the impression that Elizabeth Olsen (AKA Wanda, or the Scarlet Witch) is praying to the heavens for something. Perhaps for something to come and clear away all of that trash? Or maybe the photographer caught Elizabeth midway through her yoga flow, mid-battle scene? We're just being silly, of course, but it could easily be a number of things!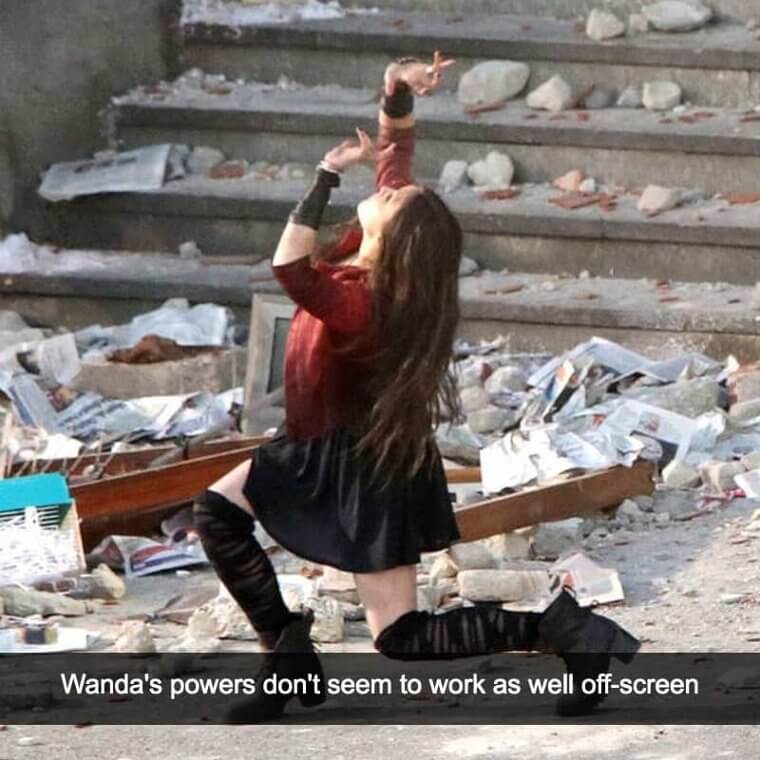 In actual fact, this is an image of the Scarlet Witch casting her spells during battle — the photo doesn't capture special effects, you see!
Sticks Of Thunder (Thor)
We all know that Thor's tool of choice is a hammer — and a pretty big one at that. But when it comes to cutlery, he clearly prefers something a little more delicate and sophisticated. This behind-the-scenes snap must have been taken when Thor's diet was on point; before he succumbed to junk food and beer in Avengers: Endgame. Just look at all those veggies!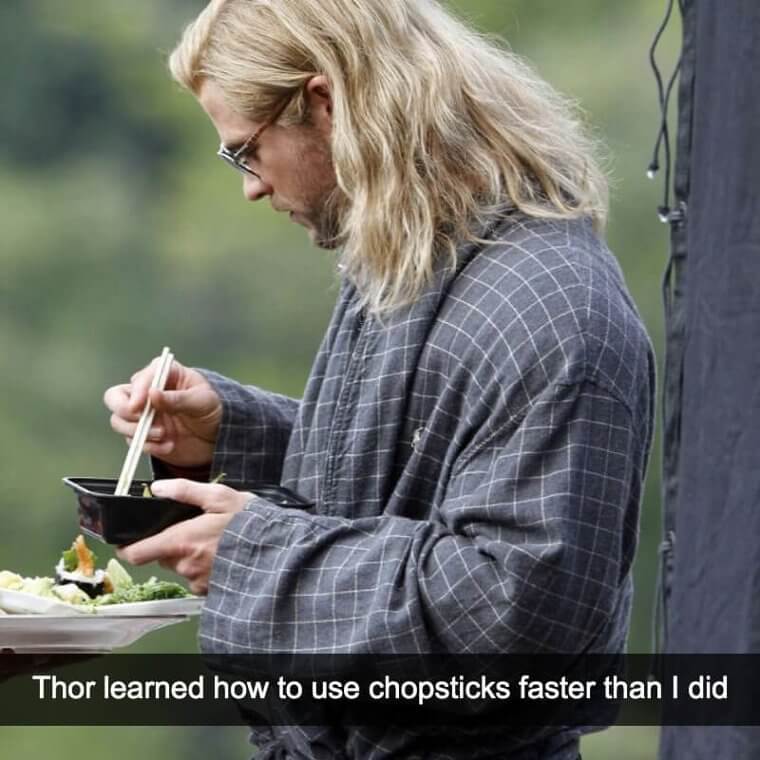 Seriously, though, this candid photo is a great insight into how Chris Hemsworth got into such incredible shape for his role in the Marvel movies. So, fancy having a body like Thor? A sushi diet could be the answer.
The Blue Ballerina (X-Men: Days of Future Past)
This behind-the-scenes photo looks like it was taken on the set of an art-house ballet movie rather than a superhero blockbuster. However, this beautiful blue ballerina is in fact Jennifer Lawrence, killing time in between takes on the set of X-men: Days of Future Past. As you can imagine, transforming Lawrence into the shape-shifting Mystique took a lot of time and effort.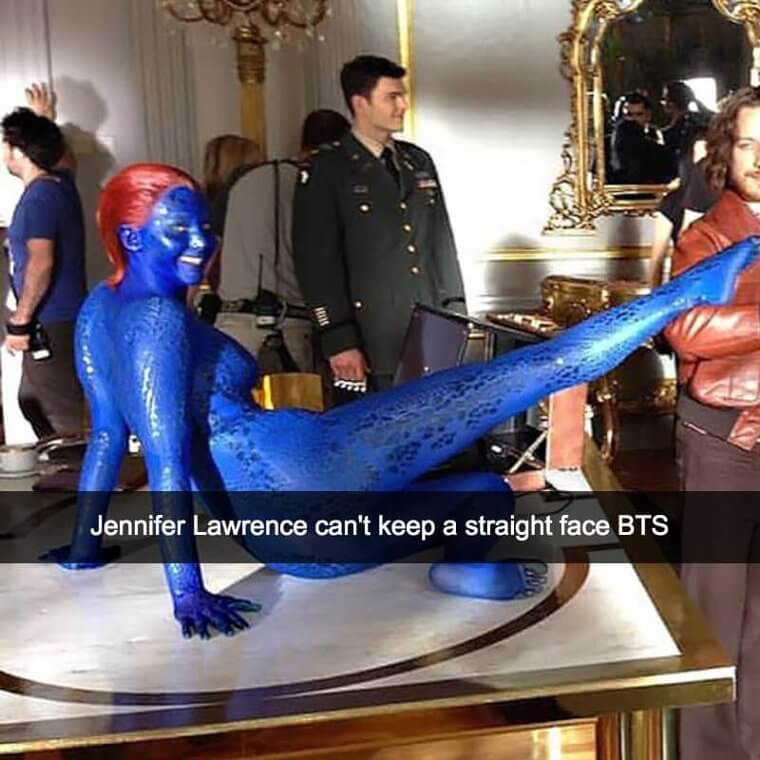 To film the previous installment — X-Men: First Class — Lawrence wore full prosthetics, but it was too uncomfortable to wear for a sustained amount of time. So, for X-men: Days of Future Past, the costume team designed a full bodysuit to mimic skin — clearly more comfortable!
Doctor Drill (Thor: Ragnarok)
We love Benedict Cumberbatch as Doctor Strange in the Marvel franchise. The eloquent Englishman brings a deep level of intrigue to the superhero sorcerer and if this behind-the-scenes snap is anything to go by, he's a joy to have on set. Cumberbatch pulls a face of terror here as a costume designer uses a drill to fasten the Doctor's cape and, to be honest, we can't blame him! We're sure it's all in jest, though.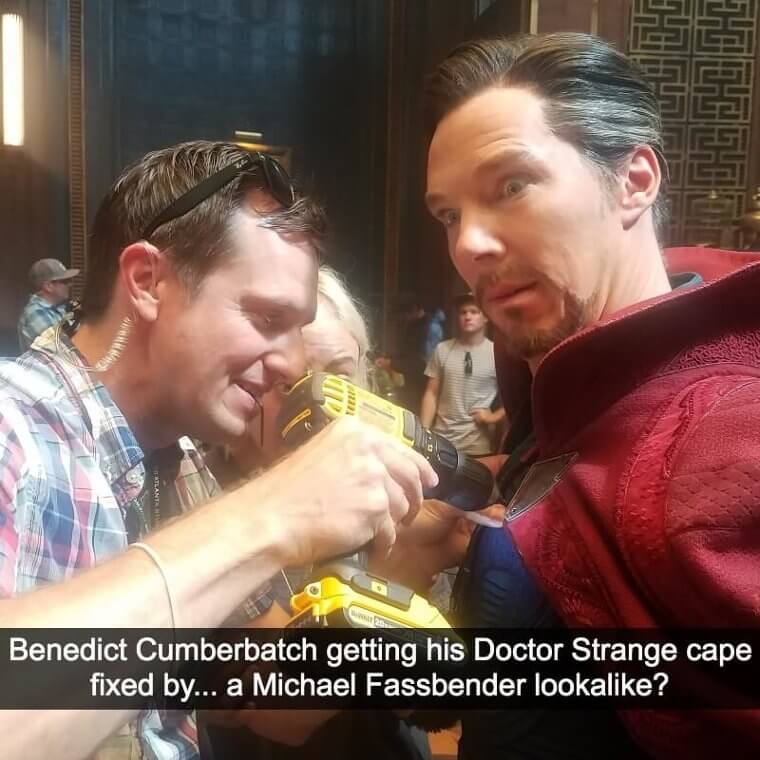 While we assume Cumberbatch is pulling this face in reaction to the drill, perhaps the look of shock is caused by the close resemblance the costume designer bears to Michael Fassbender, fellow actor and comic book star.
Hold Your Head Up High (Avengers: Infinity War)
It looks like the wonderful Karen Gillan, who plays Guardian of the Galaxy, Nebula in Avengers: Infinity War, became somewhat fond of her eerily accurate body double bust. It's not unheard of that actors are allowed to keep their favorite props from a movie set — unless it's archived away or put on display in a museum. If we were Gillan, we'd definitely be putting in a request for this prop once filming had wrapped.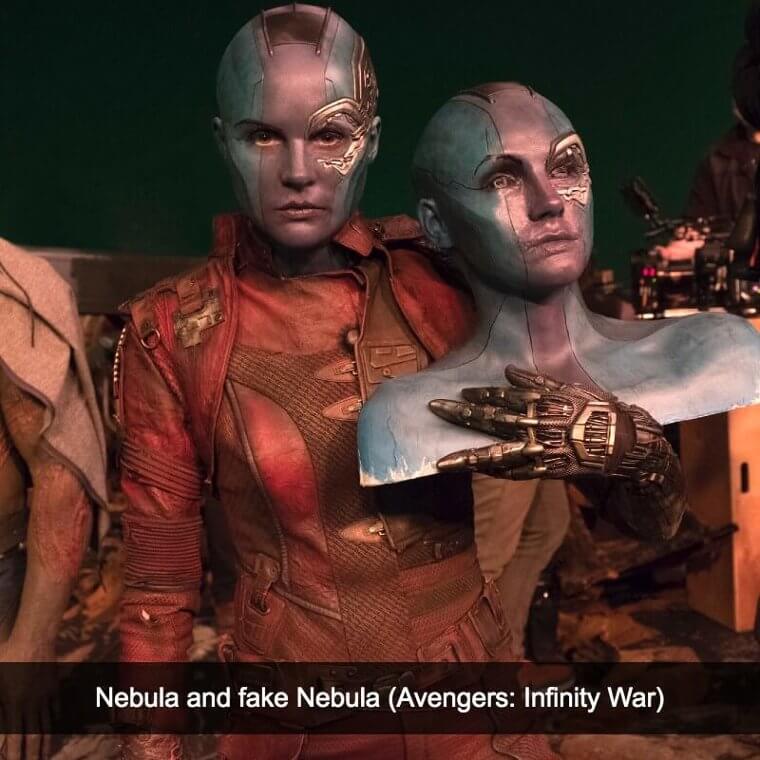 That Nebula bust would be a pretty cool feature to have sitting above the fireplace, or even in the window. Either way, it would be an amusing — and impressive — way to creep out guests or passers-by!
Putting On Weight (Avengers: Endgame)
Marvel fans were shocked when Chris Hemsworth's Thor went through a drastic transformation in Avengers: Endgame. The usually ripped heartthrob had to take his character to a dark place, which involved the hammer-wielding hero letting himself go and putting on a huge amount of weight. Hemsworth didn't pile on the pounds himself, but he did have to wear a 70lb fat suit to play out the scenes.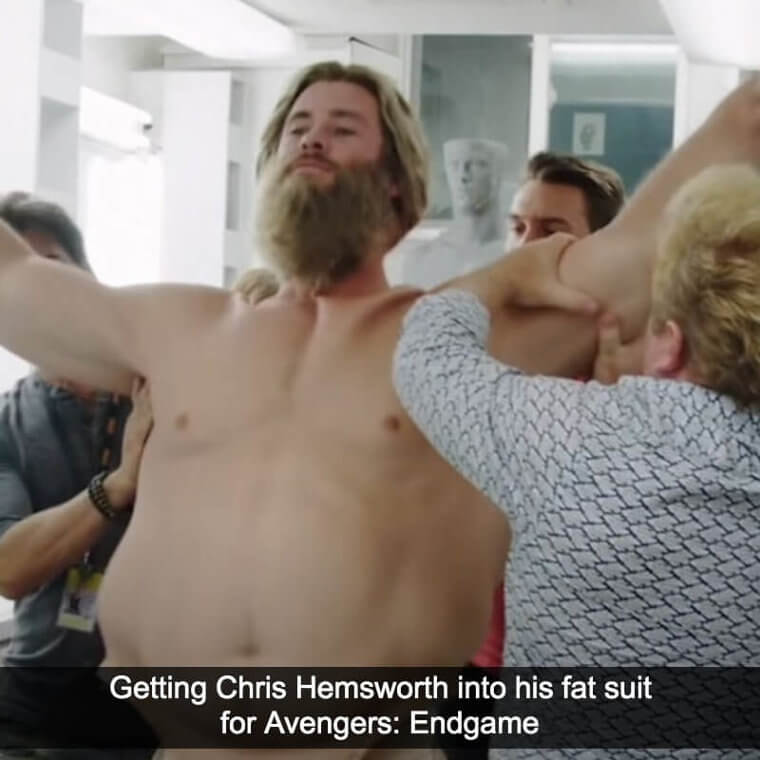 Even though this fascinating photo shows how much of a struggle it must have been for Hemsworth, the Hollywood star was actually fond of playing the overweight version of Thor, saying that the suit was liberating to wear and allowed him to add more depth to his character.
Face On Or Face Off? (Avengers Series)
This slightly terrifying behind-the-scenes photo looks more akin to the set of a horror movie than anything from the Marvel universe. However, it is, in fact, Paul Bettany, the British actor who plays the advanced android character, Vision, peeling off his incredible prosthetic makeup at the end of a day of filming the Avengers series.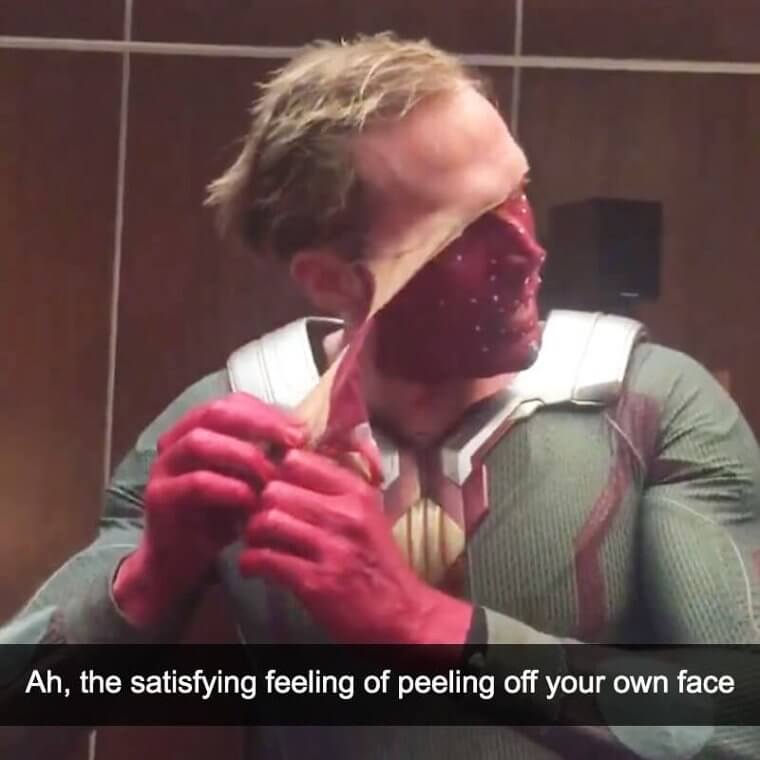 You really need to look closely at this photo to understand what's going on, because at first glance it looks as if Bettany is peeling off his own face to reveal his actual red, alienlike skin. Don't panic, it's just your eyes playing a trick on you!
Superheroes In 2D (Avengers: Endgame)
Filming a blockbuster movie is a fairly lengthy process, as you can imagine. Especially when it happens to be one of the biggest blockbusters of all time! For that reason, there is plenty of downtime on set for the actors involved. If you'd ever wondered what Black Widow and Captain America get up to when they're not kicking ass during a take, it looks like they enjoy kicking back with some multiplayer Gameboy action!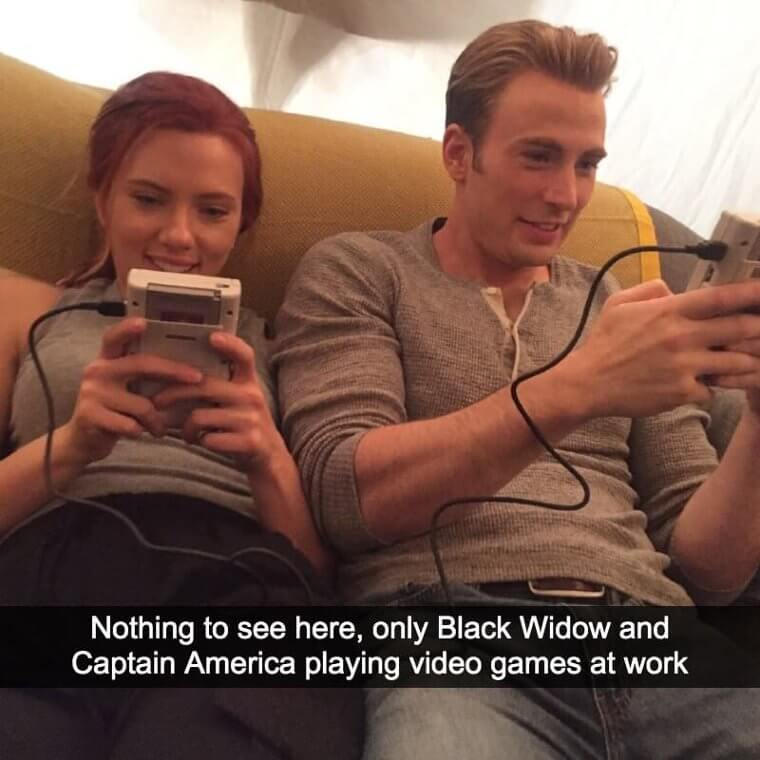 Snapped on the set of Avengers: Endgame by Mark Ruffalo (you might know him better as the Hulk) and uploaded to his Twitter account, we find behind-the-scenes snapshots like this so endearing. Fancy saving the world? Hold on, let me just finish my game of Tetris!
We Stan (Thor: Ragnarok)
When it comes to comic book legends, they don't get much greater than the one and only Stan Lee. He rose through the ranks of a family-run business to become Marvel's primary creative leader for two decades, turning a small division of a publishing house into a multimedia powerhouse. Die-hard fans will know that Lee made an appearance in every Marvel Universe installment up until 2019. He passed away in 2018 but had already filmed his cameo for the 2019 movies.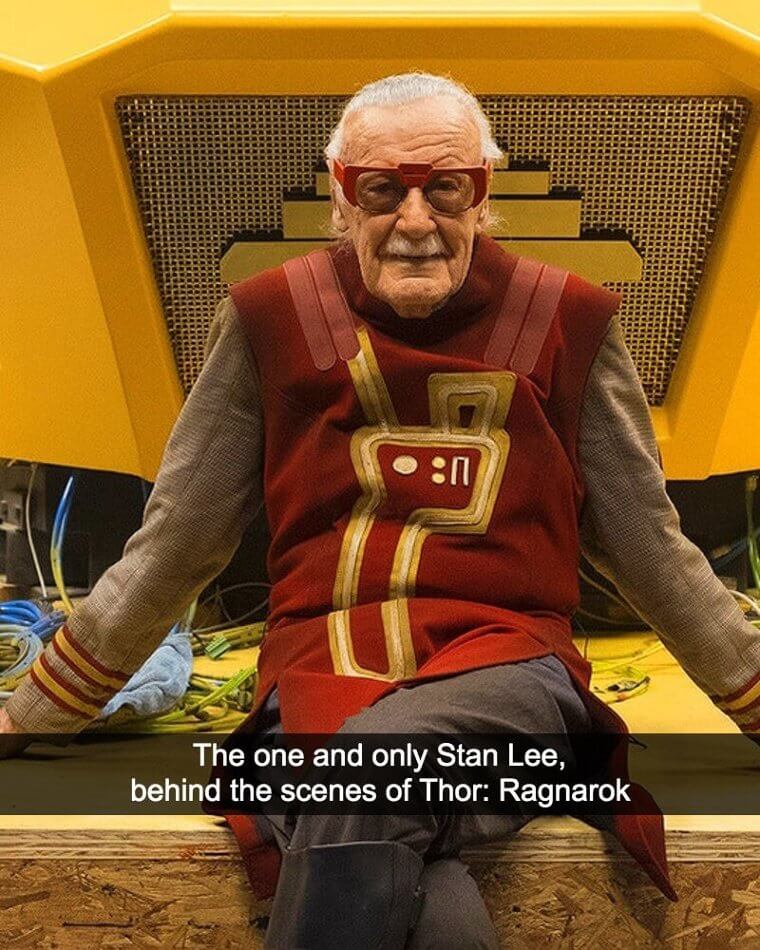 This delightful shot was taken on set during the filming of Thor: Ragnarok, in 2017, where he played a servant to the Grandmaster on Sakaar. His line was to Chris Hemsworth's Thor: "My hands aren't as steady as they used to be."
Chad's Best Buddy (Avengers: Infinity War)
The success of a movie often comes down to the camaraderie and energy on the film set. In the case of Avengers: Infinity War, the late, great Chadwick Boseman certainly saw eye-to-eye with his furriest of co-stars and we'd love to think this is one of the reasons behind such an assured performance from the Black Panther.
We can't remember exactly which scene (or scenes) this Rocket Raccoon appears in, but we're sure it gave a good account of itself. Ultimately, this is a beautiful snapshot into the lovable side of Chadwick — a wonderful actor taken far too soon.