The internet is the modern-day Wild West; you never know what you might see while innocently scrolling. Sometimes you may come across posts like those listed below, where celebrities and multi-million dollar companies show off their social media power moves. And by that, we mean streaming sites and fast food chains throw shade at one another and crack jokes that aren't always safe for work. So take a look at some of the best the new Wild West offers - we promise it involves less violence and a lot more humor.
Ice Ice Baby
He just couldn't miss this amazing opportunity. And even beyond that, he posted the comical picture on his social media accounts for all to see. Who wouldn't want to laugh about a funny picture of Vanilla Ice posing with two big bags of ice and a baby in the back? It's hard to see or think of anything other than "Ice Ice Baby" the second you see this picture. Quality humor at its finest.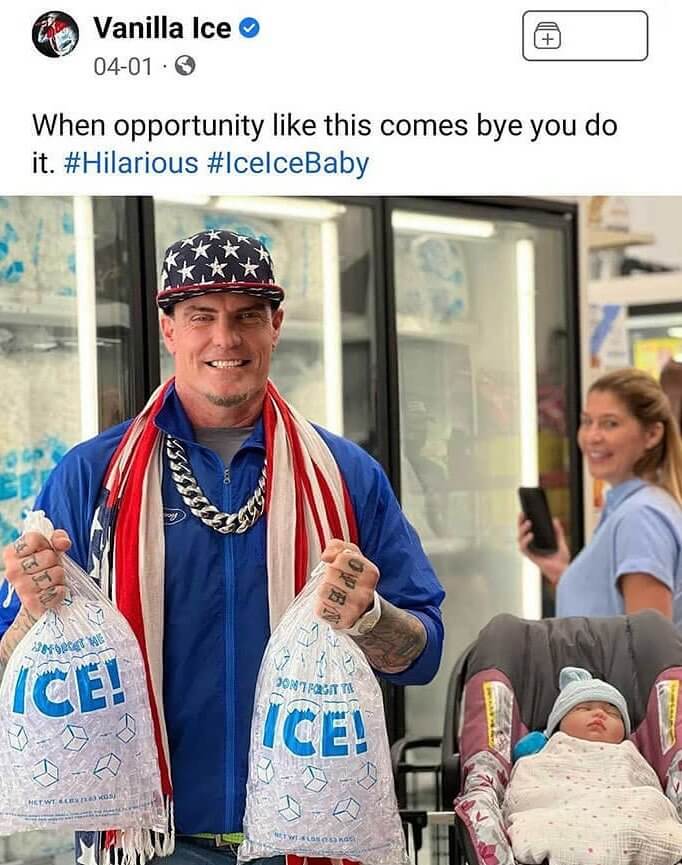 Although it certainly is an opportunity no one would want to pass by, he could have spent a moment or two editing the spelling of the word "bye." 
Some Risque Pictures From From Audi
It appears that someone tagged the wrong person in this post online, asking for some inappropriate pictures. Although there are so many questions here (who posts requests like this on social media for everyone to see anyway), the person who was incorrectly tagged decided to run with it and make a joke out of it. When asked for some nude pictures, Audi sent over the most risque picture in their album.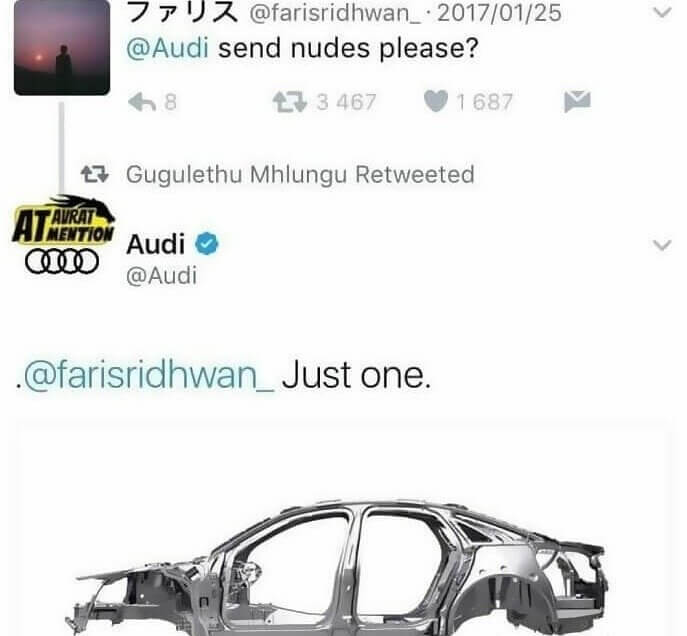 This may not be the sexiest "nude" photo ever received, but they did follow through with the request at hand. Although it most likely was not the type of picture the poster was expecting. 
The Perfect Selfie
This is a picture that should go down in the history books. There are so many comical captions that could be written on this selfie that Sofia Varga took while at a wrestling match. What was she going for when she took this selfie with the two men behind her, almost looking like they were dead? Did she notice the background of her photo, or did she think that this was just the perfect timing?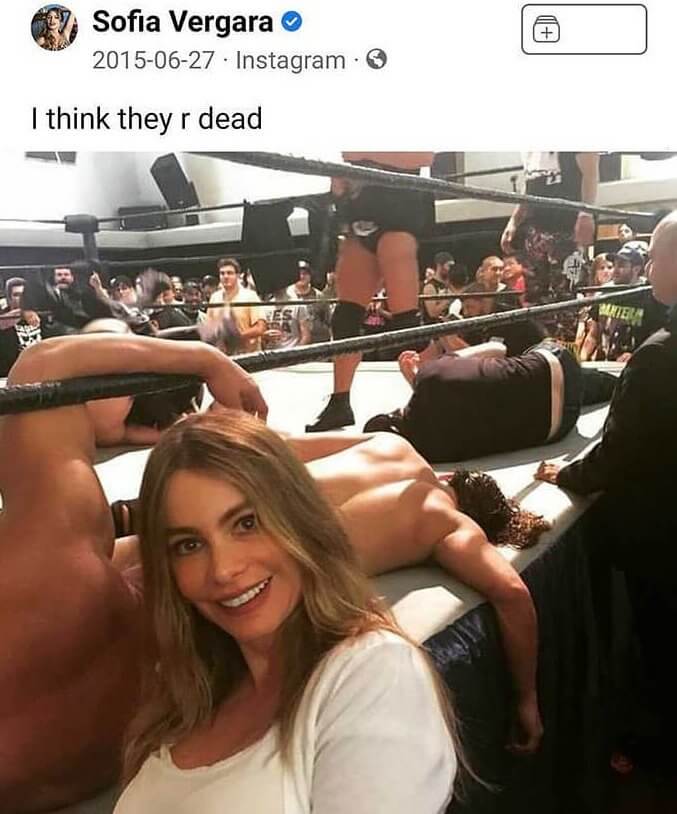 She took such a perfectly timed selfie, and her smile is both creepy and mocking at the same time. Also, why are there so many bodies lying on the ground that were partaking in this wrestling match? 
The Perfect Obituary Photo
What is the sign of a true comedian? Never be ashamed to poke fun at yourself. Ricky Gervais proved himself as a true comedian with this simple post. He has proclaimed to the world that this is the photo he wants the world to show when they announce his passing. He doesn't want them to show his best photo where he looks the most handsome or where he is doing something particularly amazing.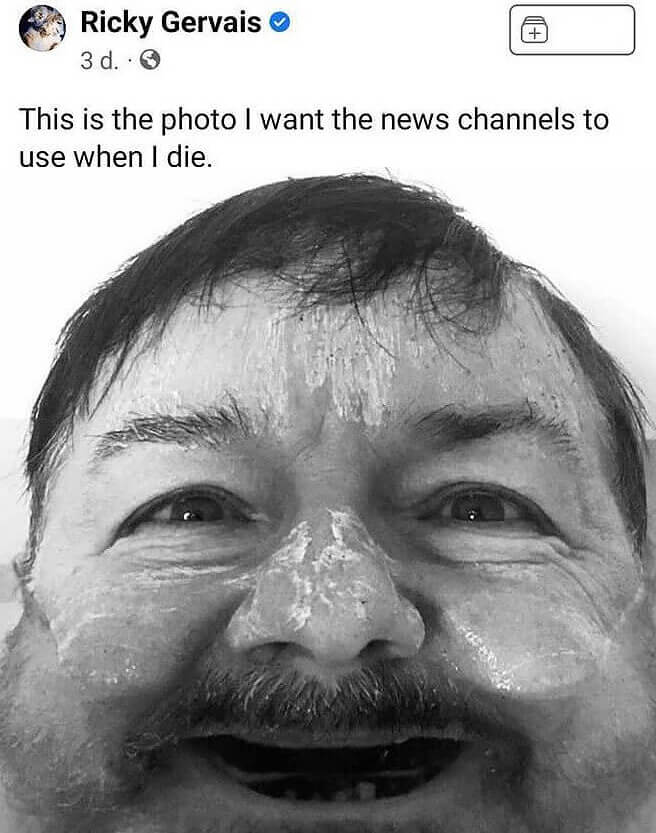 On the contrary, he wants them to show this funny picture of him, bubbling in the bathtub, with his face half-submerged in the water. At least it would give everyone a laugh one final time!
Let's Respect Peppa Pig's Privacy
Keith Bean seemed all too eager to post on his social media accounts about the very strange Peppa Pig popsicle that he bought from ALDI. Although the face itself is quite deformed, that was surely not the main focus of his concern. The lower half of the popsicle seems to be a little bit on the inappropriate side. ALDI UK was on top of this post, however, and shamed Keith for his dirty mind.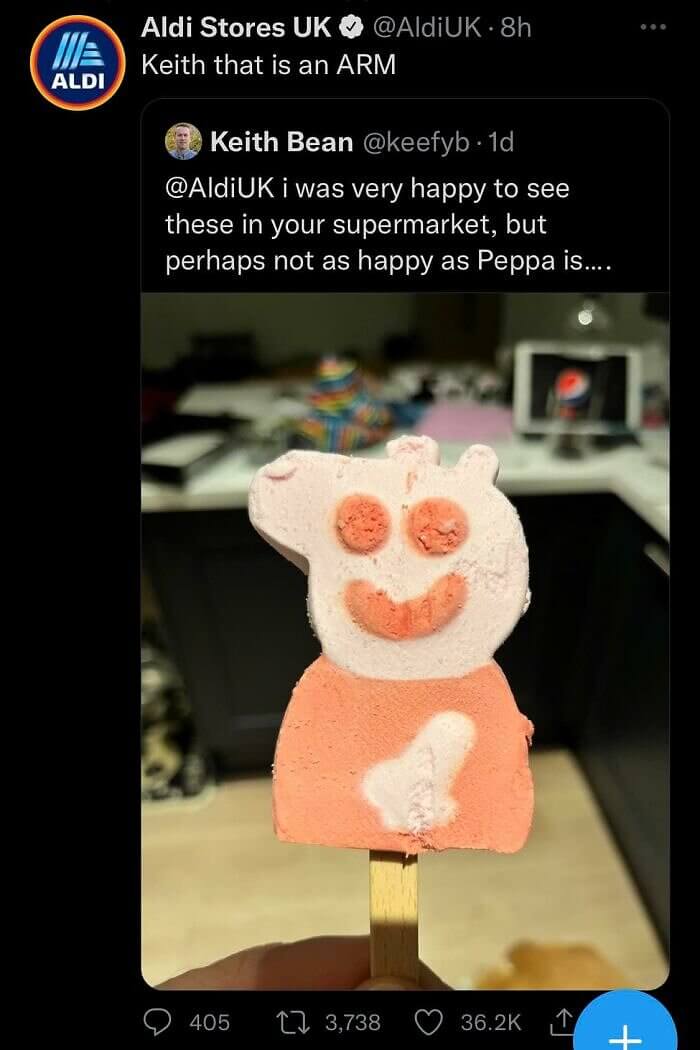 Once you see it, it is very hard to unsee. Of course, the strange picture is supposed to be an arm. Something simply went wrong in the process, making it look a little different than intended. 
Madonna's Throne of Glory
If this picture was taken of a young toddler learning how to use the bathroom for the first time, it would not be surprising at all. Things can be confusing at the beginning, and not every kid figures it out right away. However, this picture is not of a child but rather of Madonna. She took the picture herself and voluntarily posted it on her social media accounts.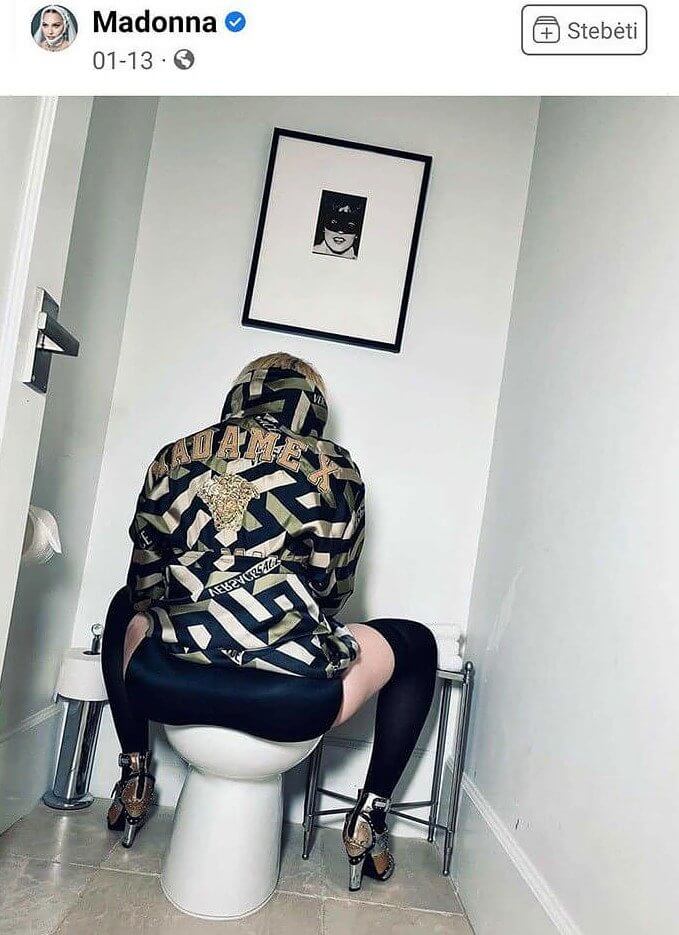 Everyone knows that Madonna likes to make a statement and cause a stir, but she may have taken things a little too far this time. Is there a need to post a picture of yourself on the toilet, especially if you are not using it the proper way? 
Keep the Cats Away From Nintendo
Although the wording here is quite questionable, no matter how you look at it, it is most likely going to be understood as inappropriate. Nintendo thought it was a good idea to tweet "Meow meow meow! Nothing feels better than the inside of a cat!" No one should really know what the inside of a cat feels like, except for maybe a vet or another cat. It's not even clear at all what Nintendo is trying to portray here, as it seems both unnecessary and perverted.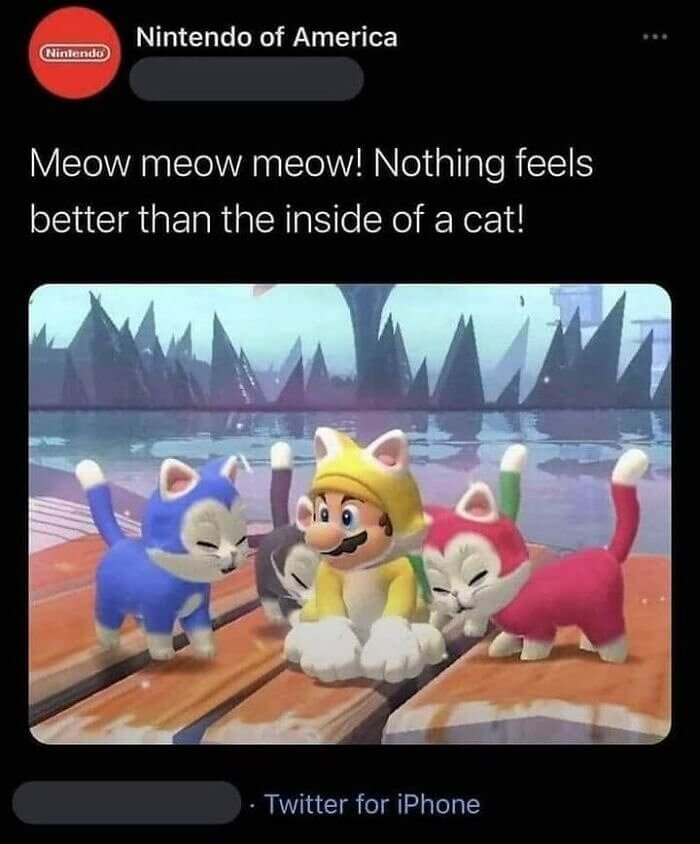 Those cats seem to be walking a little too closely to Nintendo for comfort. And why is he dressed as a cat himself? 
Ryan Reynolds: The King of Dad Jokes
Everyone loves a good dad joke, especially when it comes from a beloved celebrity such as Ryan Reynolds. Ryan Reynolds and Blake Lively always keep things lively (pun intended) when they share their lives with the world. They are undoubtedly one of the cutest couples in Hollywood, and everyone enjoys the slew of comical and scathing comments between the two of them. Their latest is a prime dad joke about their new daughter. 
It's lovely when you can see a celebrity's true personality come through, and it is even better when they have a personality as great and comical as Ryan Reynolds'! These kids are going to be in for a real treat as they grow up. 
Chili's Vs Applebees War
Who knew that there was such a firey war going on between competitors Chili's and Applebees? Perhaps things weren't so heated before this interesting and comical post. According to Chili's Grill & Bar, don't even try to smoke crack in their bathrooms, as that is something that can only be done at a lowly place like Applebees. If you try to do so at Chili's, they have warned you: the police will be coming. 
This one's risky, considering Chili's might be losing a large part of their client base. People around the world may be flooding Applebees instead of heading over to Chili's from now on.
They Don't Need Your Support
Kodack Black may be a great rapper, but he is about to become more famous for a less musically inclined reason. Although every cause can use support, he really should have considered tweaking his phrasing in this one. Instead of saying "I support breast cancer," maybe he should have added "awareness" or something similar to the end of the sentence. Breast cancer isn't really the type of thing that needs support.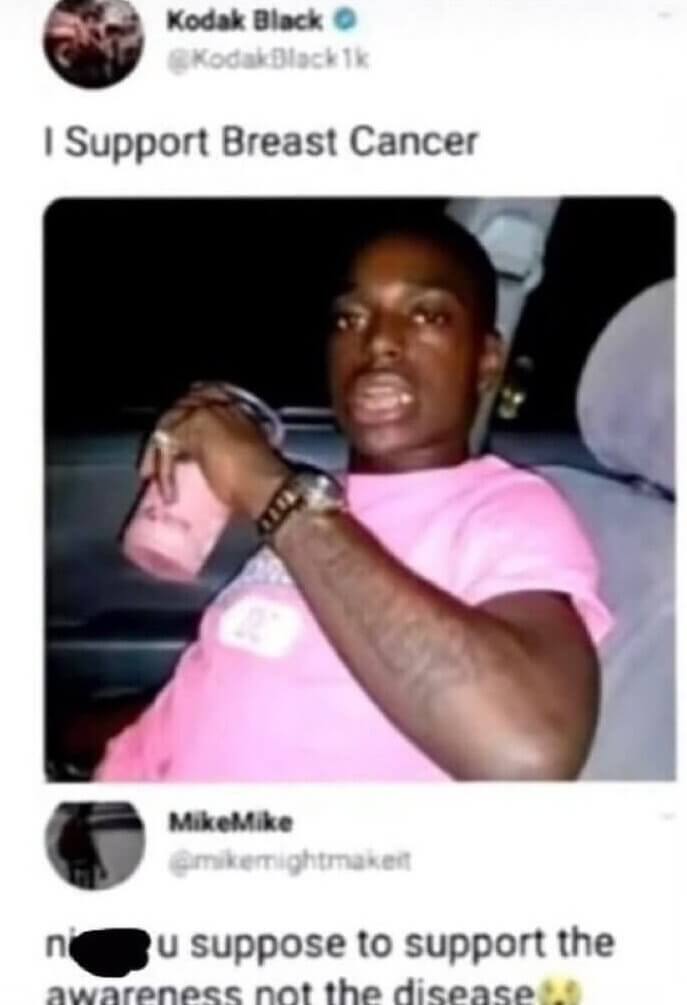 He did bedeck himself in a full pink outfit just for the photo, so it appears that his heart was in the right place, even if his words were a little lacking. 
Never Google Yourself
You never know what might happen when you type your name into the endless bank of information known as Google. Things may take a turn for the worst, or you might be pleasantly surprised. It is unclear whether Robert Downey Jr was happy or upset by what he found after googling himself and perusing through the pictures that appeared. Either way, he found it funny enough to want to share it with the whole world.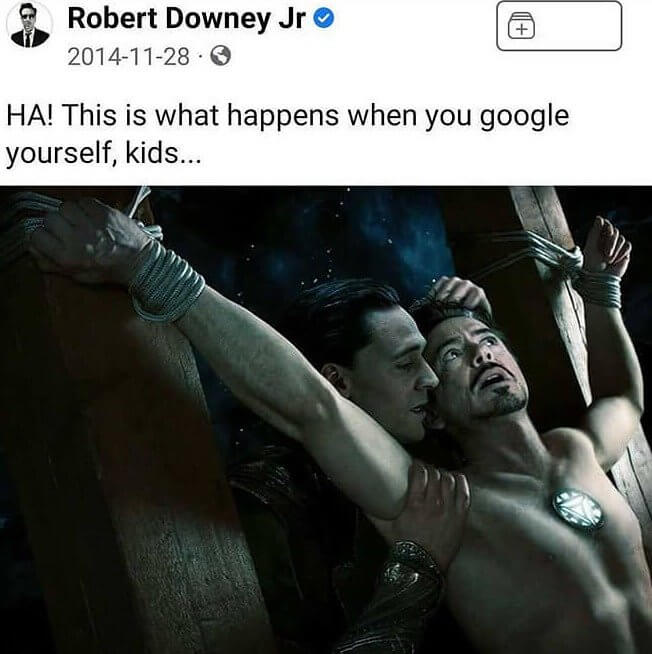 It makes sense that Robert would want to point out this picture and share it with the world. After all, if you found a picture of yourself online like this, wouldn't you do the same thing?
KFC Vs Sonic the Hedgehog
KFC might have simply been trying to be funny with their interesting choice of tweet, but they should have known better than to try to get attention by commenting that the Twitter logo bird looks appealing to make a meal out of. Sonic the Hedgehog's account saw this post and had to step in, leading to a comical conversation between the two accounts. It is certainly not the most ordinary conversation between two official pages.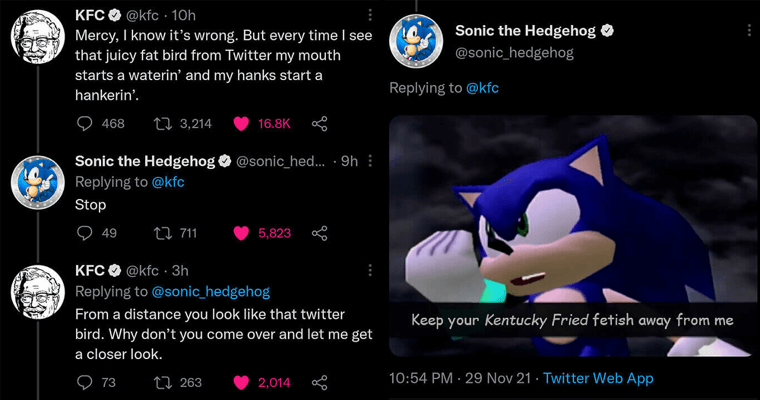 Things seemed to spiral out of hand quickly between these two pages. Who would have thought that the world would come to this: arguing comically between brands online for the whole world to see?
Ed Sheeran Should Spell Check Before Posting
Nothing beats a lovely and chill evening where you can just sit and relax with a chihauhau. The only question you are left asking yourself now is what exactly is a chihauhau? Based on the picture and the context, it is quite clear that he went to write chihuahua, but it is still kind of funny (and even makes a little more sense somehow) when it is read with the misspelling.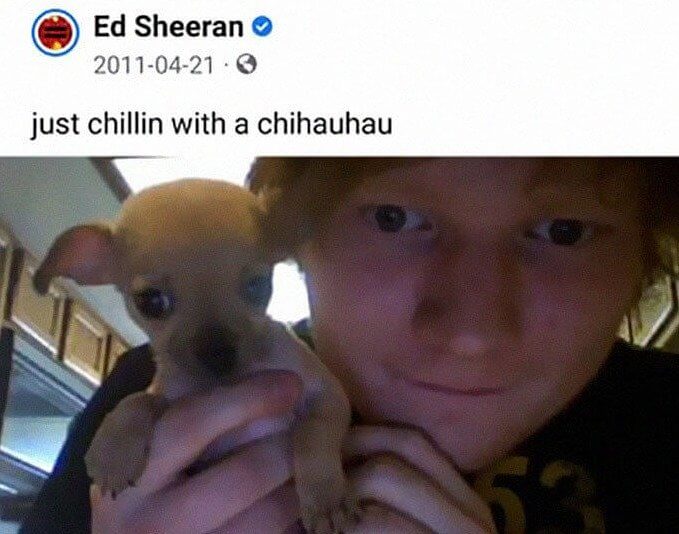 There is something in these two creatures' faces that is very, very similar. They look like they are twins, so it makes sense that they would enjoy spending an evening chilling together. 
Honestly, We Thought It Was a Clever Question
It's always funny to see the tweets of people when they are drunk or maybe even on something else. You never know what to expect. This conversation between two celebrities was made famous due to the pure humor involved. Brendon Urie tweeted a funny question asking, "do crabs think fish are flying? To which Josh Dun replied by asking, "how high are you?" What was Brendon's response? He immediately gave him height.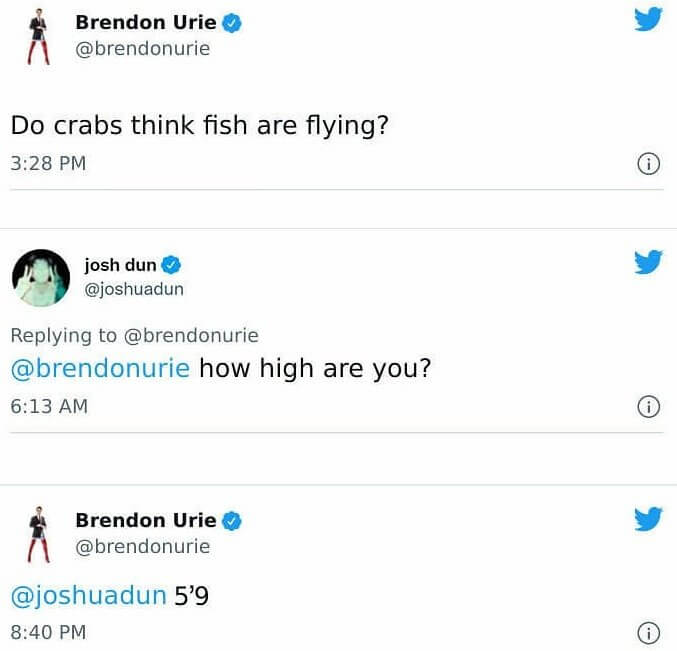 Although this could be interpreted as simply a misunderstanding or a potential language barrier, it is more likely that Brendon was indeed quite high and was too high to properly answer the question. 
This Is Why Kids Are the Best
If you ever wondered what true joy and awe looked like, you can see it on the faces of these young Japanese children when they are introduced to the amazing world of a rice cooker. Everyone loves rice; it's hard to resist or deny how delicious it is. In many Asian countries, it is a staple of everyday diet. As the government of Japan has posted on its official social media accounts, clearly, it is of the utmost importance to its citizens.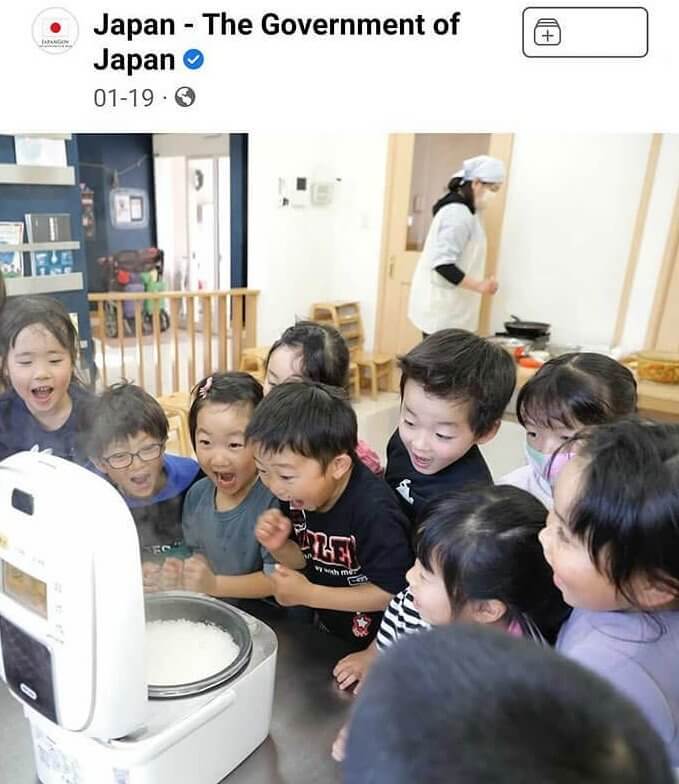 You might be looking at the next generation of the world's best rice cookers who will happily make rice for many meals now that they have been exposed to the wonderful world of rice cookers. 
Ramsay Vs Ratatouille
Do you think that Gordon Ramsay would be more shocked by the sight of a rat in his kitchen or by the fact that there is a good chance Ratatouille's food is tastier than his? After all, it is an ongoing debate, trying to decide which of the two is the more famous chef, right? Whose food would you rather taste: Ratatouille's dish or Gordon Ramsay's?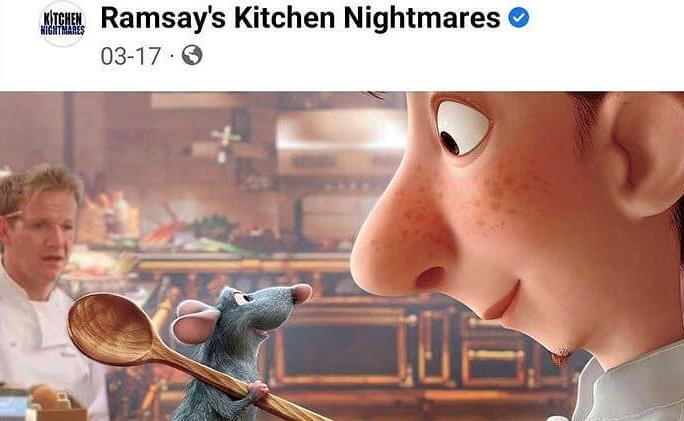 Oh, that's not a real debate? Only adult fans of animated movies think so?
Cheese Is Not a Bookmark
Who would have thought that the day would come when it would be necessary to explain to people that a slice of cheese is not supposed to be used as a bookmark? The University of Liverpool Library apparently found a piece of cheese in one of their books and wanted to share the slightly comical event with the world. They even shared their potential embarrassment when pest control would arrive. How could they hide their guilt for having mice in the library when pieces of cheese fall out of books?
The piece of cheese is even starting to get a little moldy! The page that it was marking most likely was not in use for a long time unless the person wanted to use a moldy cheese bookmark. 
KFC Has Gone Mad - Part 1
Starting off the string of very strange posts that KFC has shared with the entire world, you are presented with the latest from KFC Spain. It looks like no matter the location, KFC has jokes. Their official account posted this almost possessed image of Colonel Sanders with literally no explanation or caption whatsoever. It is both terrifying and comical, but unclear what message they are trying to portray to all of their followers online.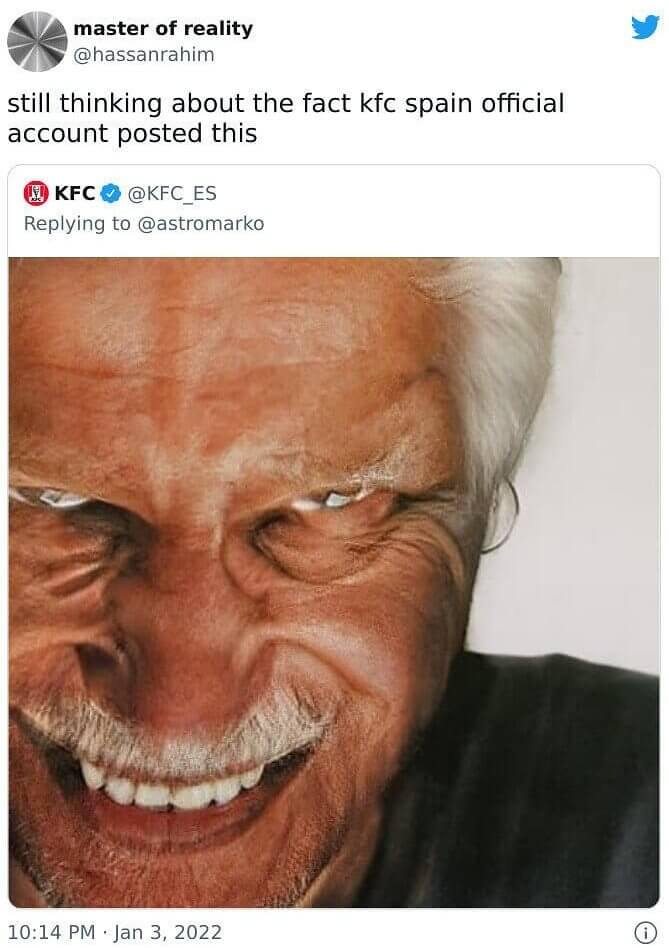 Are they trying to say that anyone who eats KFC will end up like this? Or are they admitting that the creator of the famous Kentucky Fried Chicken was actually quite insane after all?
Burger King's Risky Marketing Campaign
It is still unclear whether Burger King was trying to bring awareness to their brand by making such a controversial statement (with the clear script ready to be posted moments after) or if they had a very chauvinistic and stupid social media manager who realized their mistake too late and tried to fix it. Either way, the campaign was not as successful as they would have hoped unless they were trying to get people to hate Burger King.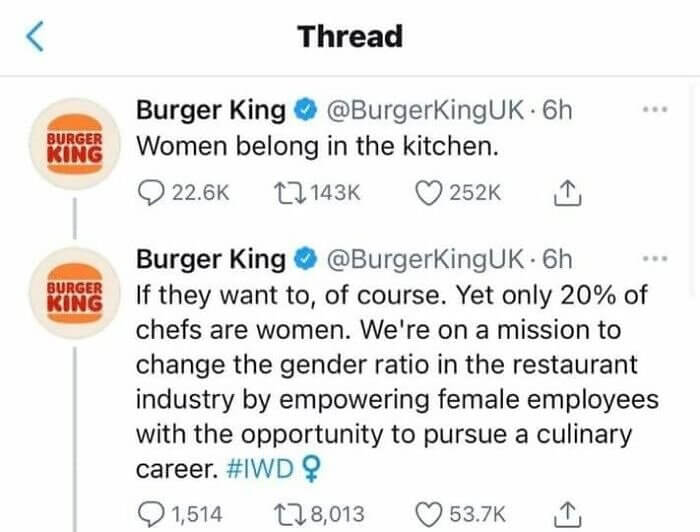 Their actual message is a good one, but they should have considered their words wisely before posting something so controversial. 
Gordon Ramsay and His Cabbage
It looks like some people dislike Gordon Ramsay so much that they have created an entire Facebook page with the sole purpose of mocking him. It is called "Ramsay's Kitchen Nightmares." The latest in their series of mocking posts is this meme-like image of Ramsay with a ridiculously deformed face saying the word "Cabbage," but clearly incorrectly. It is difficult not to laugh a bit at this one.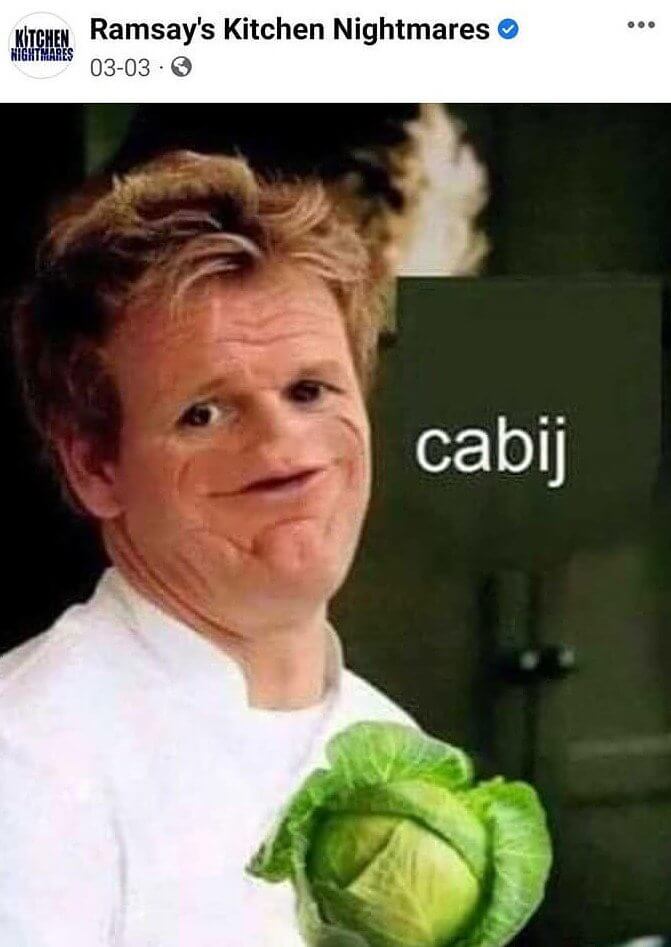 Gordon Ramsay almost makes it too easy for people to make fun of him. This group took full advantage of that fact and has been going wild ever since. 
KFC Has Gone Mad - Part 2
It looks like whoever is in charge of the KFC official account has a very interesting idea of what is considered something normal or acceptable to post on their pages. The previous photo with Colonel Sanders was already disturbing enough, but they took it to a whole new level with this terrifying photo of a creature devouring KFC. Would this make anyone want to eat KFC because it's hard to imagine that it would?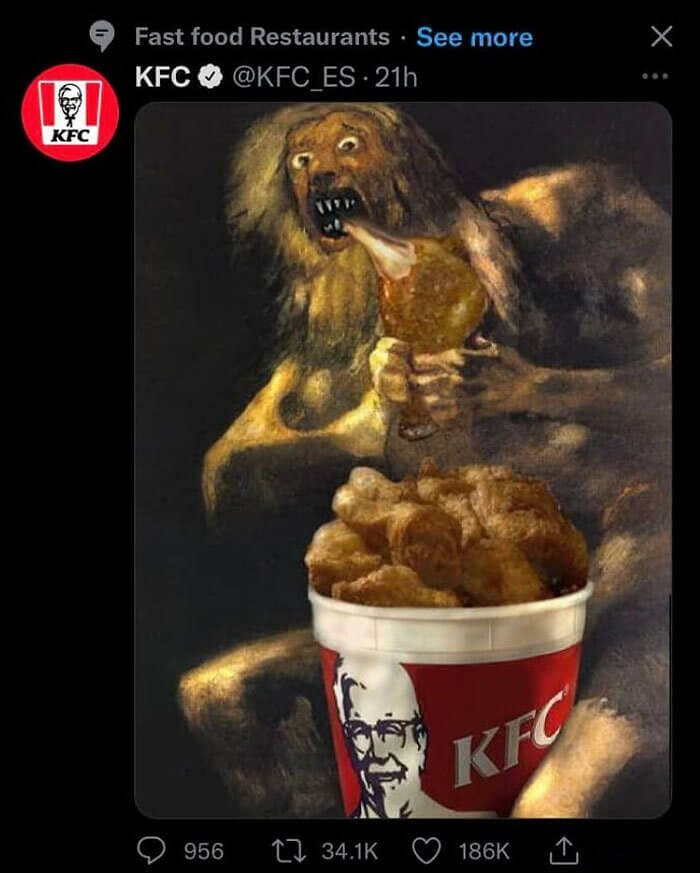 Everything about this picture is screaming (you can almost literally hear the screams) to stay away from KFC. Who in their right mind thought this would be a good marketing campaign? 
The Cryptocurrency Slew of Jokes
This one may only be understood by those who are interested in the world of cryptocurrency, but for those who understand, there is a great slew of jokes that were thrown out between Elon Musk, McDonald's, and NZXT. McDonald's and Elon joke on Twitter about the respective companies accepting various types of cryptocurrencies, from Grimacecoin to Dogecoin. The likely case is that neither of them will accept either type of currency in the near future.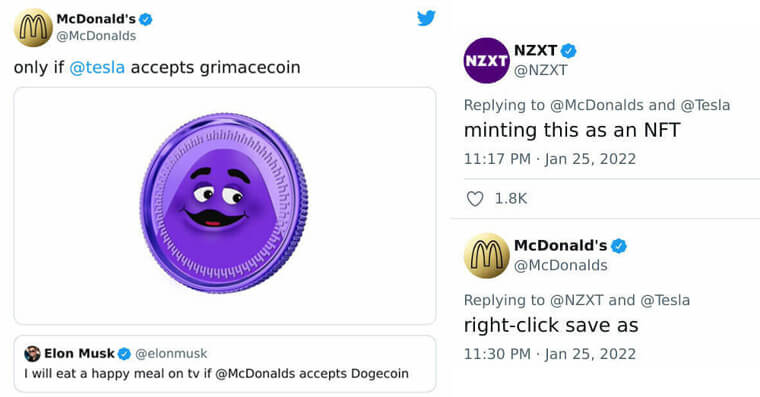 The banter between McDonald's and Tesla was already interesting and comical enough, but things got even more heated when NZXT entered the picture.
The Australian Federal Police's Invite Got Lost in the Mail
What does the Australian Federal Police have to do with the Oscars? Only this comical tweet of them pretending that they missed the countless news articles about the drama that went down at the Oscars this year. They happily admitted that they were too busy fighting and solving crime to be able to pay attention to the drama that had overtaken the world after Will Smith slapped Chris Rock at the Oscars. 

It was such an enormous event that it was impossible to miss it and not to have heard about it at all. It was in the news for weeks on end, was the subject of endless memes, and will be talked about for years to come. 
Star Trek and Lord of the Rings Have Finally Merged
Who would have ever thought that the day would come that the world of Star Trek and the world of Lord of the Rings would somehow merge as one? One man made it all possible with his insane idea to combine Gollum and Yoda into one very strange-looking character (as if the two characters themselves weren't already strange enough on their own). Something about this just feels wrong.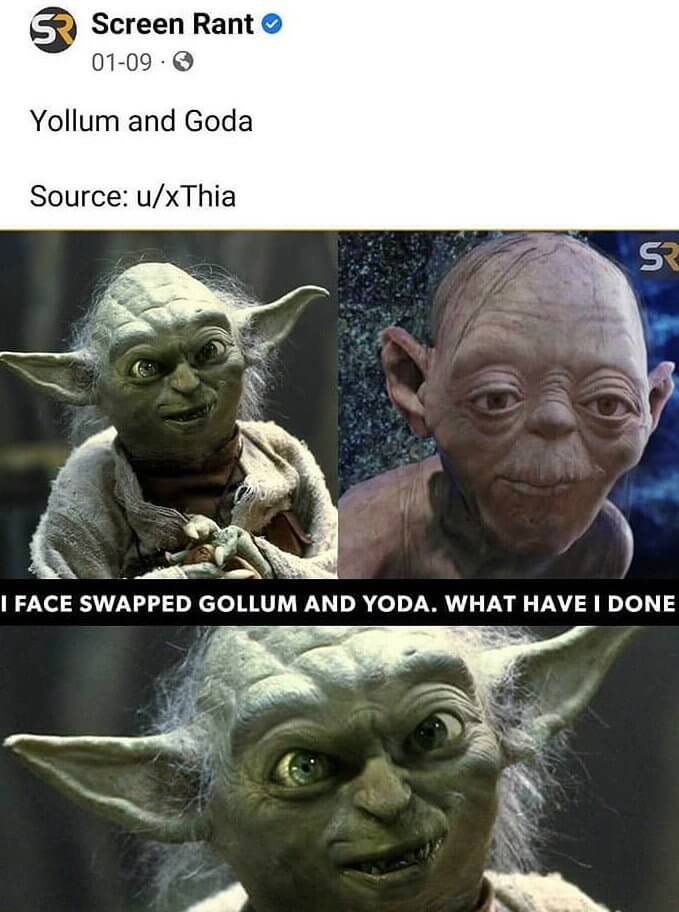 This must leave true Star Trek and Lord of the Rings fans very uncomfortable. There is something so unnatural and strange about it; it just is not right. 
The Most Clever Disguise
Password stealing is a pretty common offense when it comes to relationships and exes. Even after a breakup, most people don't want to go through the process of separating all accounts and paying for their streaming sites all on their own. What is a solution? You could always be like this girl who disguised her Netflix profile as "Settings" after a breakup just so she could continue to use her boyfriend's Netflix account.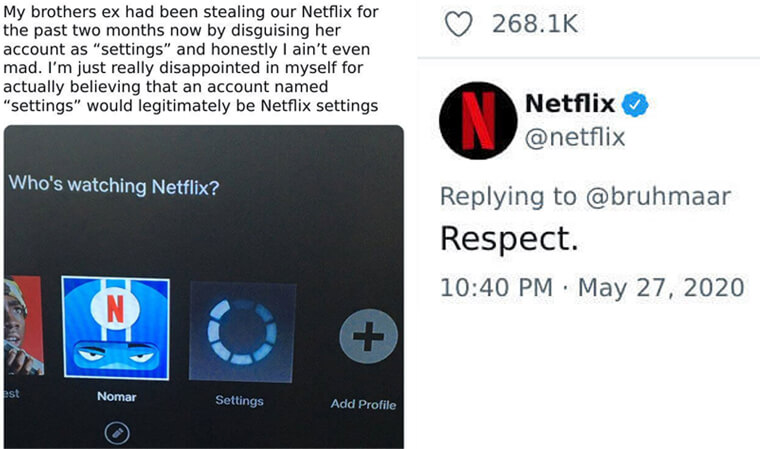 Netflix was (understandably) very impressed with this clever method to hide your profile in plain sight. How long did it take them to realize that the settings were not really settings? 
Mike Tyson and His Pigeons
Mike Tyson obviously has a clear and unexplainable love for pigeons. Although most people are not particularly fond of the birds that tend to flock and gather in most places in the city, leaving behind droppings of all kinds, it is not usually suggested to get rid of them all entirely. However, apparently, some people want to get rid of them, and Mike Tyson can't understand why. 
Maybe he has not lived in a city long enough to understand how frustrating the pigeon problem can be, especially when people feed them in public places and bring out all of them at once. 
KFC Has Gone Mad - Part 3
Whoever created this disturbing and terrifying image of Colonel Sanders, the founder of Kentucky Fried Chicken (KFC), clearly has a great sense of humor. The even funnier part is that someone from the KFC team decided to post it on their social media accounts. If you can't beat them, join them! No one can laugh at you and make you feel bad if you are already laughing at yourself.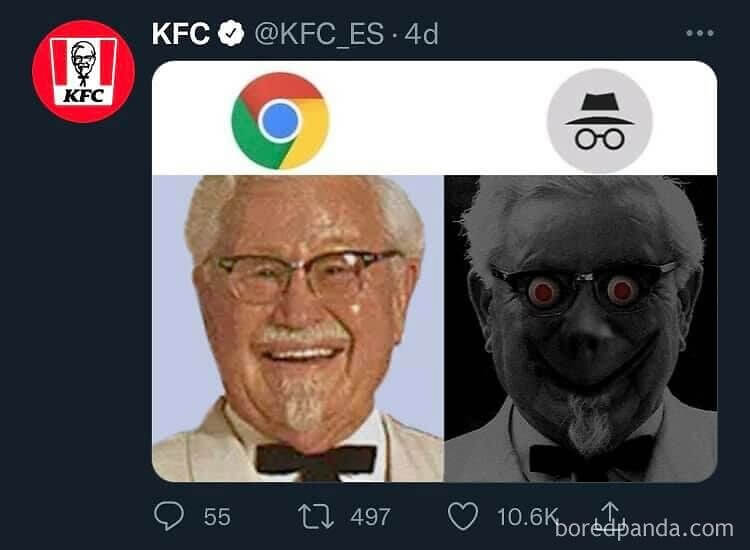 Did the person who made this hate Colonel Sanders from KFC, or did they just think that it would be funny to manipulate these photos to make him look both comical and creepy at the same time?
David Bowie Could Do It All
Everyone has seen those posts before where someone writes something along the lines of this just to get endless amounts of comments. This one is particularly stupid as the person says, "Name a fish that does not have the letter 'A' in it. I bet you can't." Although most people can very clearly think of countless fish that do not contain the letter "A," the official David Bowie account decided to make a snarky comment.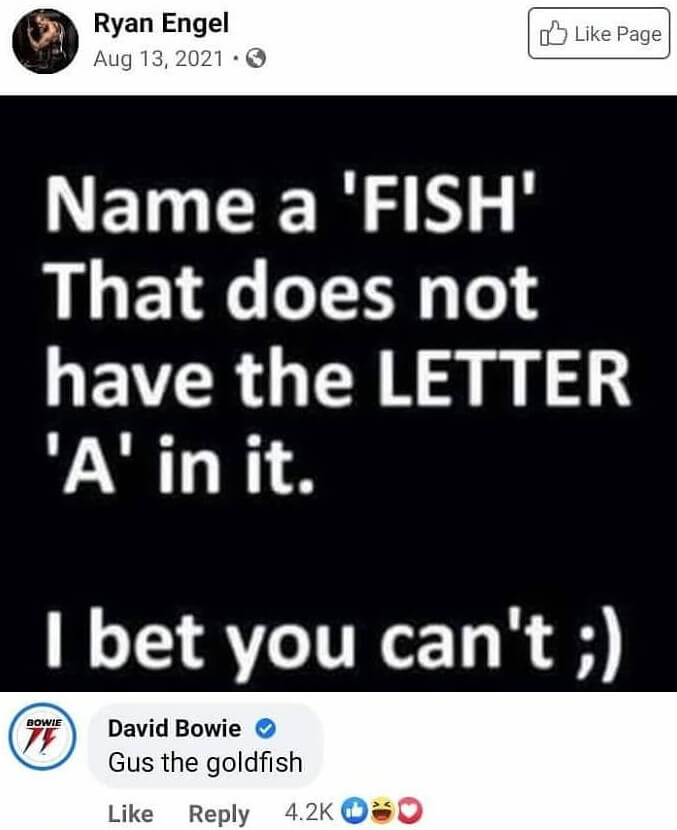 David Bowie did pass away in 2016, and this post was made in 2021, but maybe it is someone running the official account in honor of David Bowie? 
Never Underestimate the Value of a Good Pun
Be honest with yourself. When you first looked at the four photos at the bottom of this image, did you even notice that one of them was not a cat but rather a human face? Probably not, because that is how much the world thinks that Ron Perlman looks like a cat. The funniest part of this tweet, however, is not even how similar he looks to a cat but his response to the trolls online.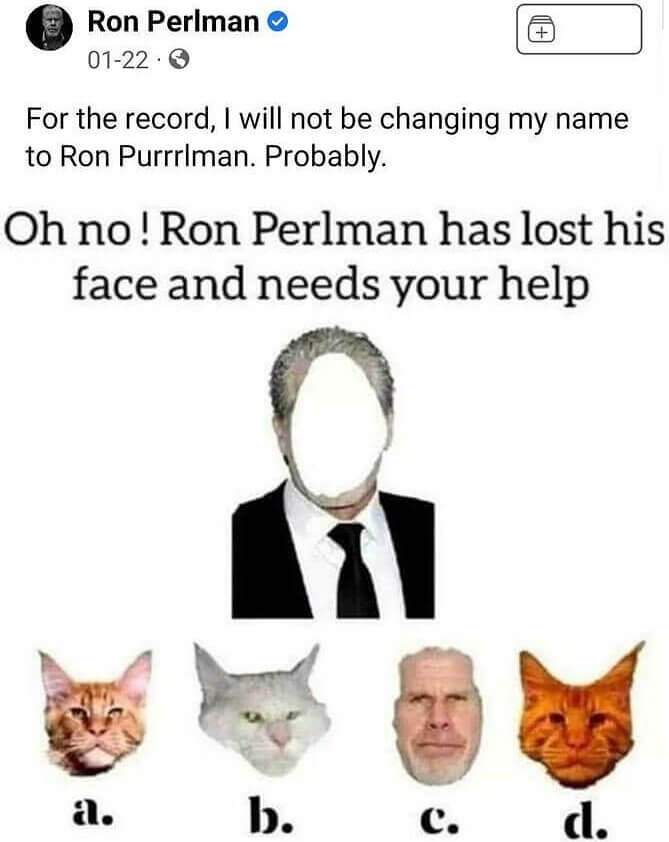 Leave it to Ron to make a funny pun out of people who are trying to make fun of him. He really should consider changing his name to Ron Purrlman instead of Perlman, just for the laughs. 
Hey, He Said It, Not Us
Everyone can use a little humor in these trying times. And it is even better when it comes from famous celebrities' social media accounts, as they reach millions of people. This tweet from Elon Musk is perhaps one of his finest. Joking around about his slightly unique name, he decided to troll himself a bit and tell the world the true, full version of his name: Elongated Muskrat. 

It's tempting to actually start calling him by that name. Wouldn't it be funny if all of a sudden people knew him like that and even assumed that that was truly his full name? 
The Darkest Video Game Ever
It's unclear whether you should laugh or cry upon reading this famous person's tweet. It is something that the entire world has been thinking of the minute things started to slow down on the pandemic side of things. The past few years have been a crazy time, and it's ludicrous to think that you have survived a pandemic! The only sad thing is that it doesn't end there, and there appears to be an even greater threat in store. 

From pandemic to potentially entering World War III, the 20s have not been a great time for the world, to say the least.
They Took Things Too Far
This one is almost too crazy for it to be true, and it's hard to believe that the official account of the CIA would post such a controversial photo. There is a well-known conspiracy theory that the CIA was actually the body responsible for the killing of JFK and not a random assassin. This has to be a spoof by someone who believes in that theory very strongly.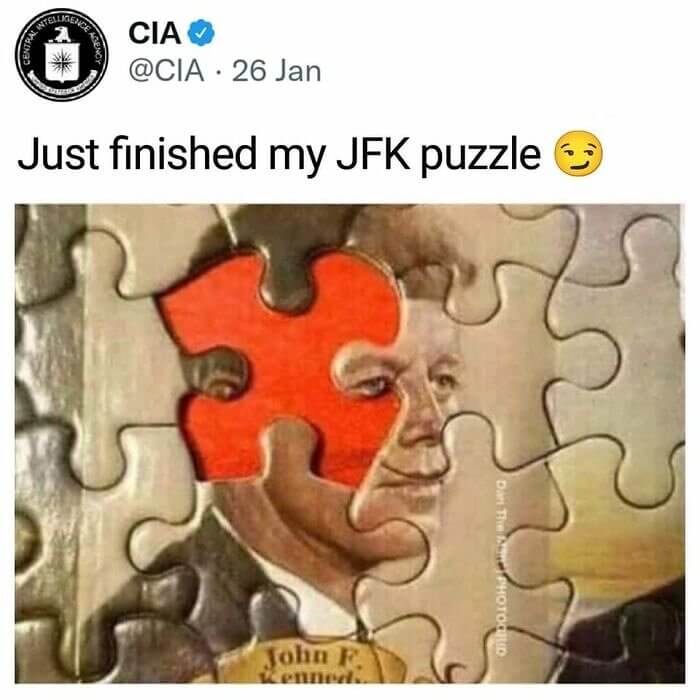 This would be a pretty radical thing to post on the official account of the CIA, even unrelated to the conspiracy theory surrounding JFK and the CIA. 
A Good Company Knows How to Make Fun of Itself
It's hard to say if it is funnier that Discord, an instant messaging platform, has to use Twitter to update all of its users that they are having technical difficulties or their response to the fact that things are not working quite as well as expected. It's a bit ironic to think that one social media platform has to use another to update its users. How addicted has the world become to social media?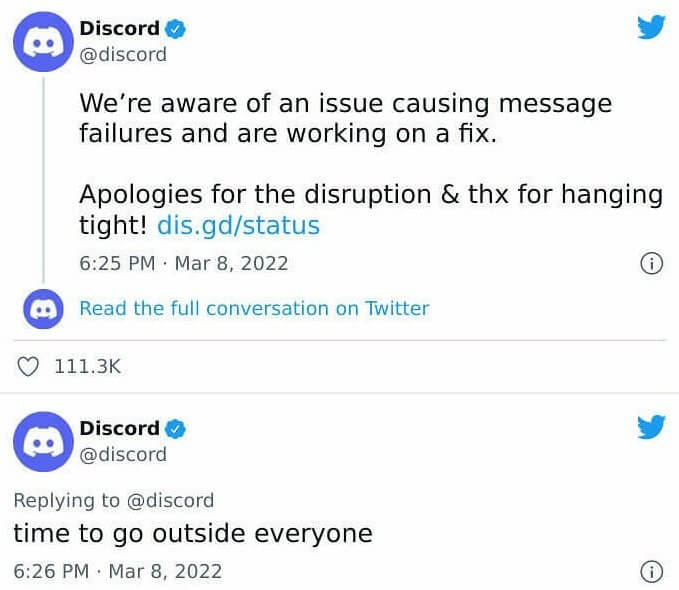 At least Discord has admitted that the time has come for their users to disconnect from their phones for a bit and head outside.  Maybe the technical difficulties are a blessing in disguise. 
The Same Joke Every Year
Camila Cabelo is quite clearly a fan of the good old dad joke, and she has one particular favorite. On New Year's Day every year, she shares essentially the same post on her Twitter account, saying, "I haven't showered since last year." Most people have too often experienced the plethora of dads who go around on December 31st, saying, "See you next year." Camila just took things to a different level.
It's funny to see how she uses the same joke every year but also changes it up a little bit. Sometimes she writes in all capital letters, sometimes regularly, and other times she writes the extended version of the joke.
Welcome to the World of Skittles
Skittles is very proud of the fact that its interns are not like other interns. While ordinary people usually hold things like their phone or a wallet or keys in their pockets, the pockets of interns at Skittles are full of only two things - lint and, of course, skittles. It doesn't seem so bad, though, to have skittles in your pockets all day long if you can just sort through the lint.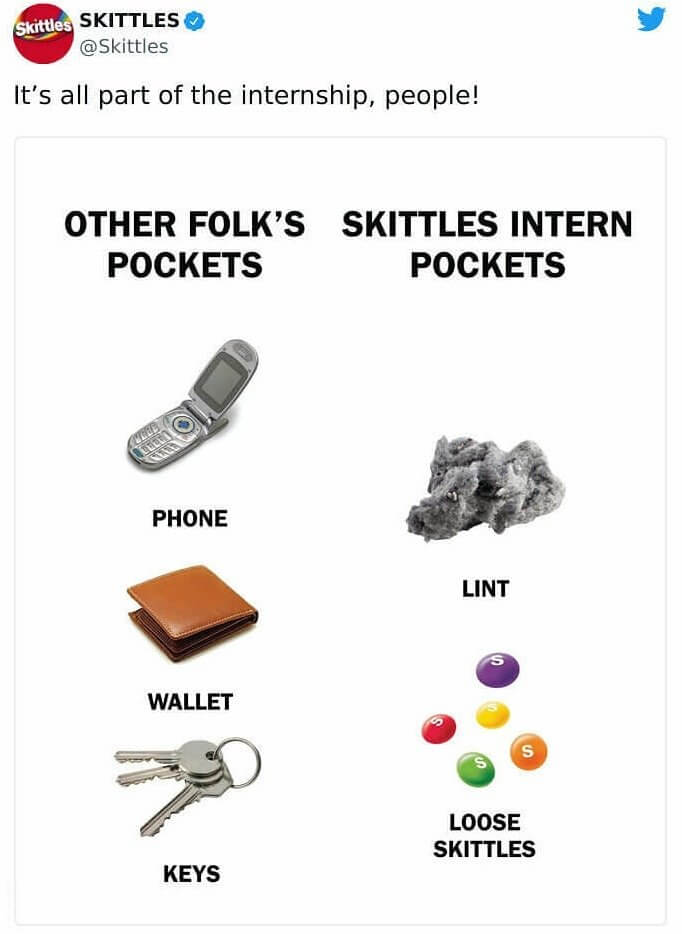 Honestly, maybe the Skittles help with separating and cleaning out the lint. Sounds like a win-win.